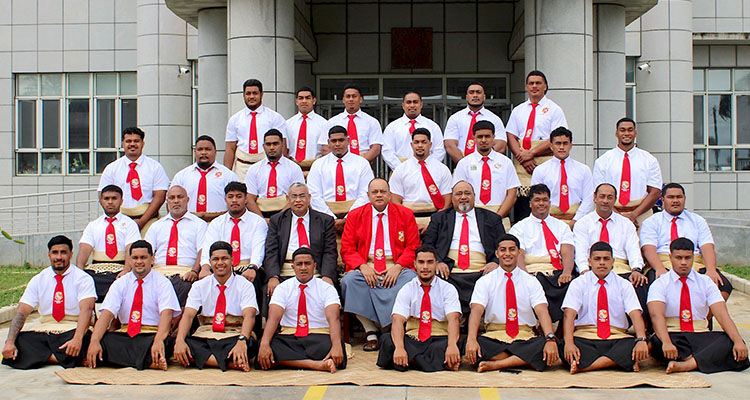 Tonga A men's squad for the Pacific Challenge Cup 2023 hosted in Apia, Samoa from 3-13 May, met with the Prime Minister, Hon. Hu'akavameiliku today of their departure in the weekend.
The tournament, contested by the national 'A' teams of Fiji, Japan, Tonga and Samoa, returns for the first time since 2020.
On 3 May, Tonga A will play against Manuma Samoa, followed by Junior Japan on 8 May and the Fiji Warriors on 13 May. They depart Tonga on Saturday, 29 April.
Tonga A
Sitaniselao Vakata
'Isikeli Vite
Elijah Halalilo
Kalisitiane Fiva
Koliniusi Lepa
Tevita Tu'akoi
Mesake Toumohuni
Penisimani Pifeleti
'Asaeli Ngahe
Lancelord Lokotui
Viliami Vakata
Puniani Malafu
Misinale 'Epenisa
Lemisio Moala
Solomone Vaha'i
Lepone Kivalu
Netaleni Taufateau
Siosaia Savelio
Leonaitasi Feke
Suvenia Latu
Siaosi Vakapuna
Manu 'Ahokovi
Lopeti Na'a
Arnold Fa'aoa
Viliami Kaufusi
Joseph Paasi
Fakahaofi Langi
Management
Coach - Sosefo Vakata
Assistant Coach - 'Ofa Takai<
Team Manager - Maika Haupeakui
Team Doctor - Pafilio Jr Tangitau
Team Physio - SiosaiaVakasiuola
Performance Analyst - Joh Fifita
Trainer - Sateki Ika