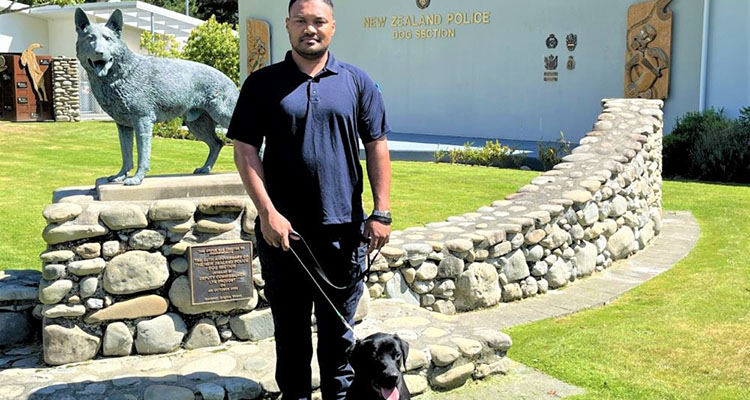 A Tongan Customs Officer, 'Amini Fonua, is currently in Wellington undertaking a dog handling training run by the New Zealand Police under the Pacific Detector Dog Program (PDDP).
This is a joint effort between Tonga Police and the Ministry of Revenue and Customs to enhance the detector dog capability at Tonga's borders. He is first dog handling trainee from Customs.
'Amini, started his training in February for nine weeks with a NZ Police bred dog named 'Fred'. They both return to Tonga Customs in early May 2023, working alongside the existing Tonga Police Detector Dog Unit.
CEO Ministry of Revenue and Customs, Michael Cokanasiga, said the opportunity to introduce dedicated detector dog capabilities in Customs will go a long way in strengthening Customs border control and enforcement, given the previous success of Customs interventions with the assistance of the Tonga Police detector dog team.
PDDP is a New Zealand Aid funded programme aimed at building detection capability for border agencies such as Customs and Police in Pacific Island countries of the Cook Islands, Samoa, Tonga and Fiji.
The program provides trained dogs and builds capability in dog handling, leadership, related systems and processes, investigation and use of legal powers to enforce and prosecute intercepts of contraband such as illicit drugs.
Police Commissioner Shane McLennan said he is grateful that Customs is now engaged in the PDDP.
"This joint training initiative has been a long time in the making and once Mr Fonua and Detector Dog 'Fred' return to Nuku'alofa, they will continue to develop their skills and knowledge by working alongside our experienced members in the Tonga Police Dog Detection Unit."