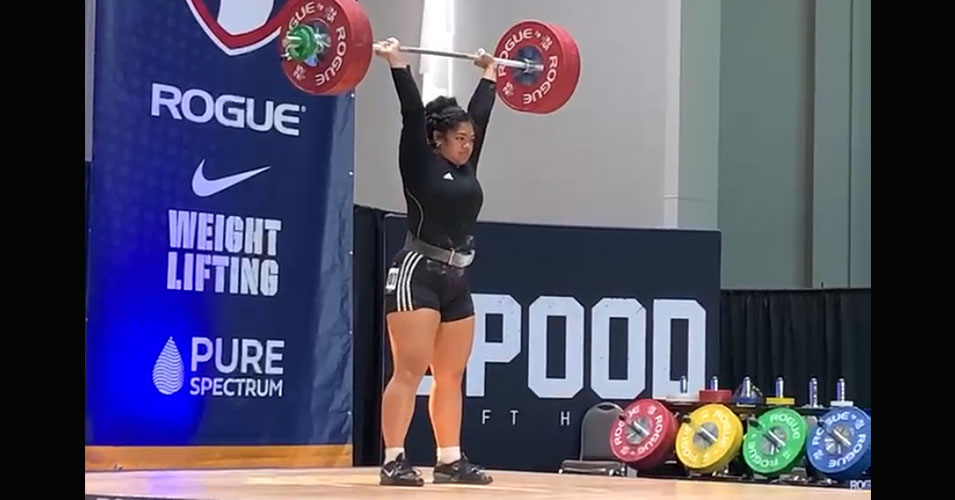 By Eleanor Gee
Weightlifter, Kuinini Manumu'a, is proud to represent Tonga at her first Olympic Games in Tokyo, the first Tongan woman to do so in the sport.
The 20-year-old, who is based in the United States, told Matangi Tonga she was overwhelmed after receiving the news confirming her Olympic spot to compete in the women's +87kg division.
"It took me a couple minutes to process it and when I called my mom to tell her that I'm going to the Olympics, she cried and that's when it hit me that I'm going to the Olympics."
Kuinini said she felt, "a lot of pride to be able to represent Tonga, and relief because we had worked towards achieving going to the Olympics and it is finally at reach".
Born in American Samoa to Tongan parents, Kuinini grew up in Ha'alaufuli, Vava'u, for ten years, "all my childhood life".
"My grandparents Maata Savou and Latu Savou still live in that village, Ha'alaufuli."
Her family migrated to the US where she starting weightlifting in school, going on to represent the USA in competitions.
"Yes, I represented the USA first then switched [to Tonga]," she said.
One of the reasons is she did not see a lot of Polynesian girls competing in team USA, and on international meets, she noticed Samoan girls on the Samoan team.
"I wanted to represent my little country so it can, hopefully, be the beginning of something for other Tongan girls like me, to feel inspired to do weightlifting. Or just lifting in general. In addition, I also wanted Tonga to have more recognition in sports, and I feel a lot of pride in representing Tonga."
Training in USA
Training for the Games has been going really well for Kuinini, who recently placed first at the International Women's Grand Prix. She also won the National Under 25 Championship in Detroit, Michigan where her best lifts were a 104-kg (228 lb) snatch and a 127-kg (280 lb) clean and jerk, for a total of 231 kg (509 lbs.) in the women's +87kg division.
"Right now, it's really good! I'm healthy, I feel good and that is all that matters right now is staying healthy. I had a kneecap fracture last year in July so to be able to lift right now and be healthy is a huge accomplishment and I take every day that I lift as a blessing from the Lord."
Kuinini will attend the Olympics with coach Ben Hwa, who is making sure everything is organized, particularly with COVID-19 specifications, before they leave for Japan on July 26.
One disappointment for the weightlifter is that no spectators are allowed at the games due to COVID-19 "because I really wanted my family to come watch me".
"I'm there for a week so hopefully I can cope and adjust to the environment and the way things are going to be conducted over there in Tokyo, so I can focus on myself."
However, there are a few things Kuinini is really looking forward to at the Olympics.
"I am looking forward to competing, and eating sushi over there, honestly!"
"For competing, I want to really take in the moment when I am on the platform and just enjoy lifting."
"I love sushi so I am looking forward to also trying some good sushi in Tokyo."
Kuinini will compete in the Over 87kg event in Japan on 2 August.