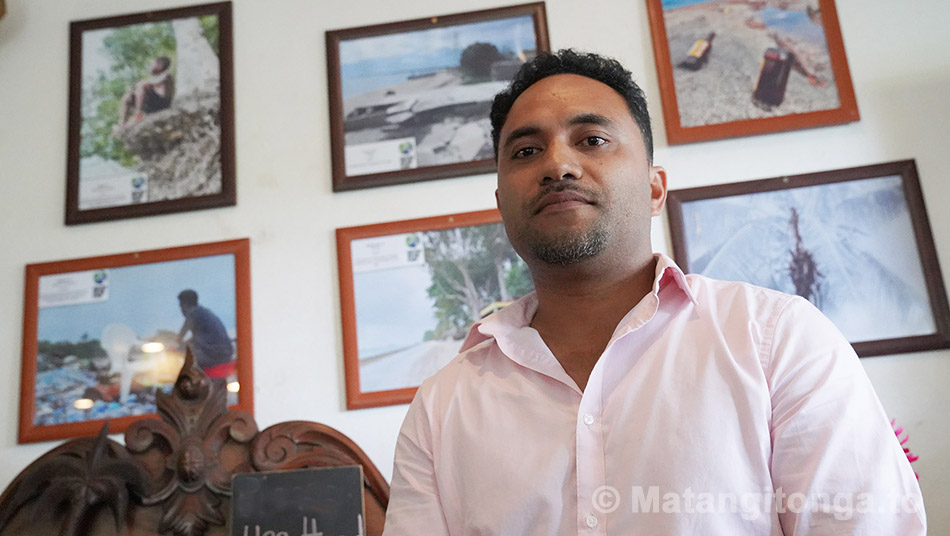 In the Pacific Islands, evidence of climate change is all around us, but when dozens of images showing its impact across the Pacific come together in one room, it is sobering and challenging to the viewer.
Whether it's a living room flooded with seawater in Samoa; a house foundation slipping into the sea in Tonga; an island village submerging in the Solomon Islands; flooded communities in the Cook Islands, Nauru and Papua New Guinea; or a Fijian boy dreaming on an eroded coastline; photographs submitted by amateur photographers of all ages capture the immediacy of the harmful effects of climate change.
The photographs taken by 50 finalists in a recent Pacific Climate Photography Competition are on display at the Waterfront Restaurant in Nuku'alofa. The United Kingdom organised the competition across its six Pacific posts.
Launching the results today, March 12, the new British High Commissioner-Designate to Tonga, Lucy Joyce, said the photo competition was designed to build more awareness, including among young people, of the impacts of climate change across the Pacific.
"The UK government has been taking a leading role on climate change for many years," she said.
The UK and Italy will co-host the 26th Conference of the Parties to the UN Convention on Climate Change in November this year, and as it approaches they hoped to increase public attention and build momentum.
"As a country on the front-line of climate change, we value Tonga's commitments," she said. In December Tonga deposited at the UN a revised Nationally Determined Contribution to climate change mitigation.
She announced the names of the First prize-winners (who won cameras) in various subject categories:
Junior: Maxim Va'a (Samoa)
Youth: Raynesh Charan (Fiji)
Marine: Justin Naisua (Fiji)
People: Edward Takanunu (Maunga Solomon Is.)
Land: Jaqui Shipp (Fiji)
Honourable Mention was given to a local Tongan, Maikolo Fonua, who submitted his photograph of beach erosion damaging seafront property in Ha'apai. Maikolo who works for the Electoral Commission in Nuku'alofa, told the gathering that he took the photo with his cell phone. He encouraged everyone to document the effects of climate change to help create awareness. "You don't need to have professional equipment to do this," he said.
Lord Dalgety QC in a keynote address said the issue of climate change needs to be solved immediately, and we need to make changes in our lives. The photography reminds us of our geographic location and the harmful effects on reefs, mangroves and coastlines. "Through the lenses of the participants we see that we are, after all, fighting the same fight, we are all affected by this phenomenon," he said.
The photographic exhibition was the first event organised by the British High Commission as it reopens in Tonga.
- Mary Lyn Fonua