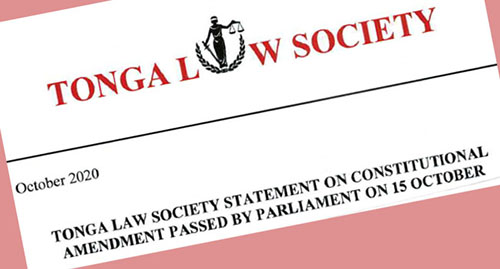 Tonga Law Society Statement on the Constitutlonal Amendment passed by parliament on 15 October 2020:
The Tonga Law Society is deeply concerned at the amendment to the Constitution of Tonga passed unanimously by Parliament on 15 October 2020.
The amendment inserts a new clause 89A into the Constitution, which requires every Court or Tribunal in the Kingdom to take Tonga's "customs, traditions, practices, values and usages" into consideration, where relevant, in deciding any matter before them.
The Constitution is the supreme law of Tonga, which was enacted by King George Tupou I in 1875. It has far reaching effect and is of utmost importance for the people of Tonga.
The amendment to the Constitution passed by Parliament on 15 October was passed without any consultation with the Tongan people or prior disclosure to the people as to the content of the proposed amendment. The views of the Tonga Law Society, as the representative body of legal practitioners in Tonga, were not sought. In bypassing the consultation process, Parliament has denied the Tongan people the most fundamental right to be heard on a matter of elemental importance to every Tongan subject.
It is a fundamental function of the Tonga Law Society to promote the interests of the public in relation to legal matters. Due process demands comprehensive consultation with those persons potentially affected whenever a significant change in the law is proposed - most particularly when those changes involve the Constitution of Tonga. The failure of Parliament to adhere to due process in passing this amendment is a disturbing development.
The Tonga Law Society considers that the extent and manner to which Tongan customs should be incorporated into law is a matter on which the Tongan people will have many different views. Those views should be heard. There is no "quick fix" and careful consideration needs to be given to this matter.
Sione Tu'itavake Fonua
President, Tonga Law Society
See also: Parliament amends Tongan Constitution to include unwritten customs