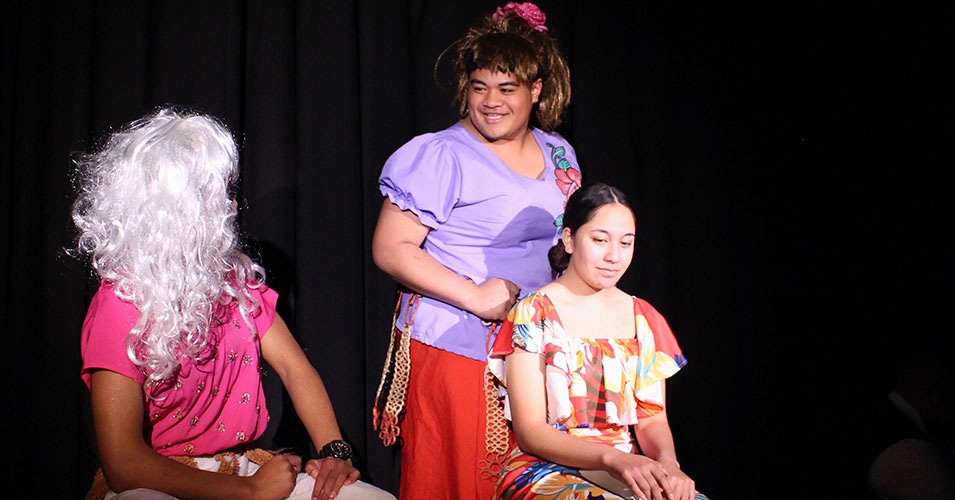 A Wesley College student (Year 13), Sione Teutau, has won the Best Actor award for Auckland South and East, in a national drama festival, for playing a nurse in a short performance of a scene from 'Romeo and Juliet',  where some of Shakespeare's words were translated into Tongan.
The school's senior drama students entered the Shakespeare Globe Centre New Zealand (SGCNZ) - University of Otago Shakespeare Festival, which holds 24 festivals nationally every year for secondary-age students.
The award has earned Sione direct entry in the SGCNZ National Shakespeare Schools Production along with 45 other students chosen from around the country to take part in workshops in Wellington for a week.
Desiree Pole, from Wesley College Dance and Drama, told Matangi Tonga today that the students will participate in workshops with high calibre tutors, and then rehearse for a Shakespeare play which is performed to the public at the end of the week.
"From the 46 students, 24 are selected for the SGCNZ young Shakespeare Company. The company travels to London where they participate in workshops and perform a scene in Shakespeare's Globe Theatre."
Wesley College also won the best visual aesthetic for a production of Romeo and Juliet, as well as the most filmic approach (5 minutes).
Shakespeare in Tongan
Desiree said the Year 13's production differed in that their scene was performed in both English and Tongan.
"The students translated sections of Shakespeare's words with the support of Mr Siosiua Tu'uhoko Pole, the HOD of Maths."
"The bilingual approach was an extra challenge on top of learning Shakespeare's language, selecting excerpts that felt appropriate to perform in Tongan, and especially for the students, ensuring that their Tongan was correct."
"We are extremely proud of our student's work, especially as this was produced three weeks into term 2, post lock down. To do so mean that students were practising and rehearsing their lines while in lock down. We even held Zoom rehearsals."
The 5 minute extract from Romeo and Juliet used a modern day living space.
The SGCNZ University of Otago Sheilah Winn Shakespeare Festival is held in association with the University of Otago, the Ministry of Youth Development, Creative NZ, the Sheilah Winn Trust, Trinity College London, Wellington City Council, Wellington Community Trust, and Otago Community Trust.
"We especially feel honoured with Sione's special award and selection for the SGCNZ National Shakespeare Schools Production."
SGCNZ Assessor Dr Luton said the nurse was played confidently and with a delightful sense of fun and comic timing, and in homage to Shakespeare's original male actors.