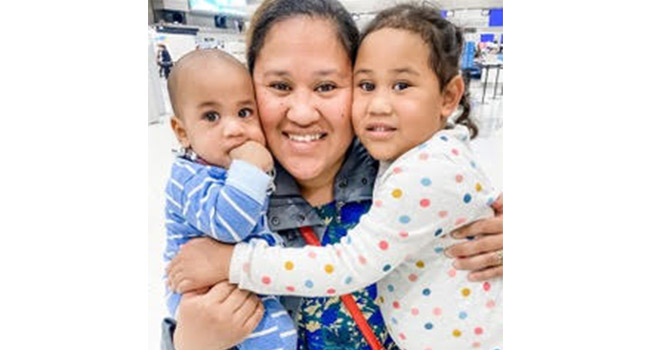 Louena, a Tongan mother of two who lives in Japan, is desperate to be reunited with her babies, daughter Kathleen (5) and infant son, who are now in Tonga.
Louena and her husband, a professional rugby player in Japan, thought they were doing the right thing by bringing the children to Tonga to avoid an outbreak of CoVid-19 in the area where they lived. But Tonga's sudden border closure caught them by surprise and has separated the young family.
"It has now been four months of being apart from our kids and it gets harder each day knowing that our kids are in Tonga without us," said Louena, whose daughter Kathleen turned five during this time and her youngest son is not yet one-year-old.
"We are currently living in Shin-Urayasu. When we were told that there was going to be an outbreak of the CoVid-19 in our area, (during the original outbreak) my husband and I decided it would be best to have our kids taken to Tonga where it was safe. While my husband flew the children home, I stayed behind to organise and finish up a few things here, as everything was organised very quickly. My plan was to go to Tonga not long after," Louena told Matangi Tonga today.
"I didn't think everything would be happening so fast. Nor did I understand the seriousness of how the borders would close or I'd have never sent my children. We believed we were doing the right thing by them by removing them from the threat of Covid."
Louena said she had booked tickets on Air New Zealand and Fiji Airways, that were postponed a couple of times. "Then there was one flight and I thought I was going to make it."
But New Zealand changed their entrance rules allowing in only New Zealand citizens.
"So I wasn't allowed on that flight. I was heartbroken," she said.
Tongan family
In Tonga during the week, her husband's mother, sister and her family takes care of the children in Fangaloto. On the weekends, they are at her parents' house in Sopu.
"It is hard because we want our mothers to take care of their health, yet they are still willing to do their best of care for our children. Our siblings also have their own families to care for, even though they have reassured us many times they are happy to take care of our kids during this hard time," she said.
"My daughter Kathleen keeps asking us when we will pick her and her little brother up to come to Japan, and we feel so heartbroken because we don't know when for sure we will see them."
"We're doing all we can to try and get me on a repatriation flight so at least one of us can be with our kids, and/or get them out of Tonga. I hope and pray that soon my husband and I will be reunited with our babies," she said.
Looking for options
Meanwhile, another rugby wife in Japan, New Zealander Arnia Ross, said they were helping to see if they could sort any options for Louena. (They live in the same town but are with different teams.)
"When she told us the news the other day that Tonga's borders will be closed till September it was heartbreaking. She sobbed all weekend," said Arnia. "It's just so tricky getting them in or out of Tonga, as we could get Louena on a plane to NZ tomorrow, no problem."
- by Mary Lyn Fonua