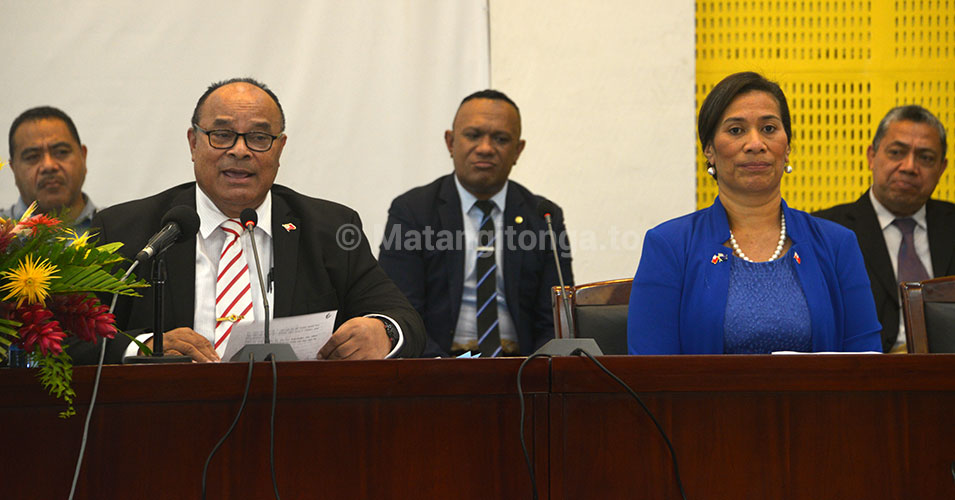 EDITOR'S NOTE: see correction and update Flight of Fantasy
An opportunity for some Tongans to return home amid the struggle to keep Tonga free from the novel coronavirus, was announced by the Prime Minister, Hon. Dr Pohiva Tu'i'onetoa, this afternoon 12 June.
Fifty Tongans who have been stranded overseas, will be repatriated from New Zealand next week on an Air New Zealand cargo plane.
He also said that three days ago, the body of a Tongan who passed away in Fiji had been repatriated by His Majesty's Armed Forces to Nuku'alofa. Because of the closed border, the deceased's remains had been waiting to return home for burial. According to officials at today's Press Conference, no relative was permitted on the journey from Fiji to Tonga, and the burial in Vava'u next week would not be in the Tongan traditional way, but by officials.
Testing
Minister for MEIDECC Hon. Poasi Tei said the first passenger repatriation flight from Auckland on Tuesday June 16 will be a test and if it worked out well, there would be another flight. Only 50 people will be allowed on the first flight.
He said travellers would have to bear the cost of their CoViD-19 tests before departing New Zealand.
"Costs for CoViD-19 tests have gone up since there is not much of a demand for it in New Zealand now. It used to cost around $70 and now it costs around $300."
"The fifty will be tested again when they arrive in Tonga. They will be transferred straight from the airport to the Tanoa Hotel in Nuku'alofa, where they will stay in quarantine for 14 days. They will be tested again before they are allowed to go home.
The hotel accommodation and the meals of the passengers will be paid for by Government.
He said they were not sure how many more Tongans they would be able to bring back home to be quarantined at the Tanoa Hotel.
Tonga's border will be closed for passenger flights up to 12 September.
The diversion [of flights] will continue until 12 September,"he said.
The Flights Diversion Order, which came into force on 18 April, ended today 12 June, but according to the Health CEO, Dr Siale 'Akau'ola, an extension of the Flights Diversion Order would come into force tomorrow, 13 June.
Check Website: http://www.gov.to/category/diversion-order/
EDITOR'S NOTE: see correction and update Flight of Fantasy