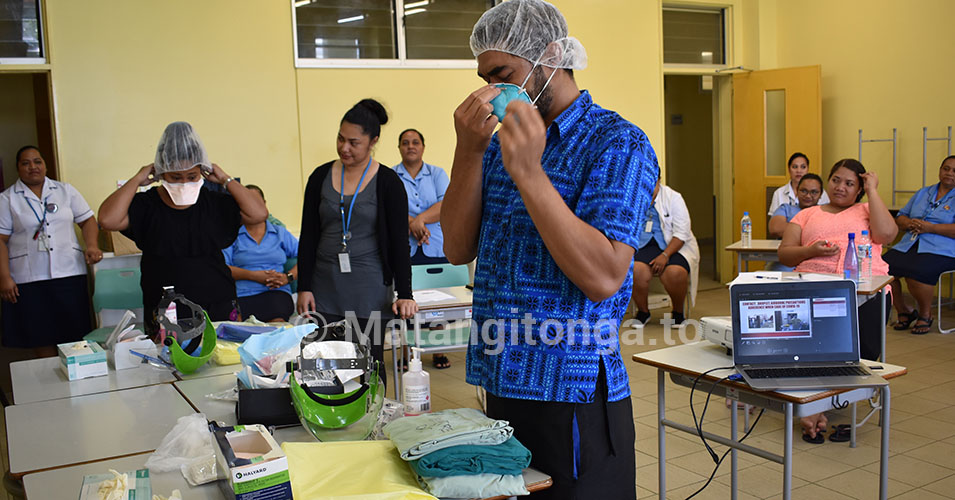 Three CoViD-19 testing machines and 2000 test kits are expect to arrive in Tonga later this month
Head of Vaiola Hospital, Dr 'Ana 'Akau'ola confirmed at a press conference today, 7 April, that two machines and test kits were ordered via their normal supplier based in New Zealand, with one of these machines and the test kits being delivered from the UK.
"The machine from New Zealand is the same one as Fiji is using," she said. "This one will reach Tonga by ship on 8 April but we can't use it until we receive the testing kits, which are coming from the UK."
"The machine from the UK is scheduled to reach New Zealand on 17 April and then sent here. There are also 2000 initial test kits coming with the machine from the UK, and more kits have already been ordered," she added.
One machine cost NZD$47,000, including the test kits and can process 17 tests at one time. The other machine cost NZD$96,000 and can process 96 tests at one time.
Donation
The third machine is a donation from the World Health Organization (WHO) and the Pacific Community (SPC). The GeneXpert device (including cartridges) is scheduled to reach Suva by mid-April. It will then have to be forwarded to Tonga.
CoViD-19 tests can also be run on the GeneXpert machine, which according to WHO, is currently used to test for tuberculosis, HIV and viral hepatitis. However, WHO says it is probably best suited to complement a wider testing strategy that primarily relies on one or more higher throughput assays.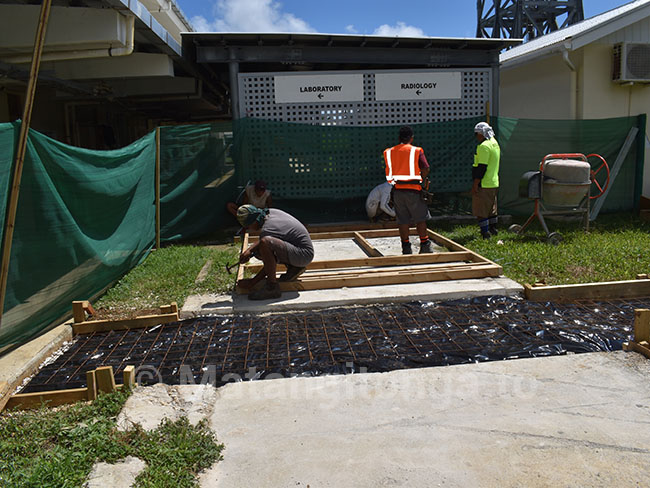 Test Lab
Meanwhile construction work on the test laboratory where CoViD-19 tests will be performed at Vaiola Hospital is underway. The lab is being built because Tonga does not have a lab to do these types of tests.
Dr 'Ana said they have been liaising with VIDRL in Melbourne, Australia, to ensure it reaches a certain standard for testing.
VIDRL is a leading Australian infectious diseases reference laboratory, that has performed CoViD-19 testing for Tonga.
"They are assisting us and giving us directions in terms of setting up the laboratory," she said. "They understand that we have no choice but to be able to do the testing as borders are closed and we cannot use planes to deliver specimens for testing overseas."
Performing CoViD-19 tests in Tonga will make it easier for doctors to try and limit the spread of the virus, she said.
"Staff are ready as they have been trained to use similar machines overseas."
Personal Protective Equipment (PPE)
Shipments of two batches of Personal Protective Equipment donated by China have not yet reached Tonga. 
A spokesperson from the Chinese Embassy in Nuku'alofa told Matangi Tonga yesterday afternoon that the first batch handled by DHL Express is currently in Hong Kong.
Delivery of the second batch depends on a proposed charter flight.
"The related parties including Chinese, Tongan and Tahiti authorities as well as [the] Friendship Associations of these nations are actively contributing to find the best solution at present," said the embassy spokesperson.
"The arrival time is hard to predict but please be assured that everyone involved in this matter understands the urgency and is making all efforts to deliver the goods in a fast and proper way."
Last week, the Prime Minister announced the government had barred a direct flight from China to Tonga, which was bringing in the second batch of PPEs. Instead, the vital protective gear now has to be shipped over to Tonga from Fiji. 
Negativity
Health CEO, Dr Siale 'Akau'ola told Matangi Tonga last week that the negative public comments against the Chinese shipment, was endangering Tonga health workers who urgently need the PPEs to be able to fight CoViD-19,
He told Matangi Tonga on 2 April, that donations from China were planned but certain members of the public are trying to scare people about them.
"We should ask ourselves here, what are we achieving by making people scared unnecessarily?"
"We need to prepare ourselves with appropriate tools to be able to fight this threat. Our doctors and nurses need enough PPEs to protect them, we need lab equipment, we need medical supplies," he stressed.
He also called on the support of both the public and media during this crisis.
"We want the media to broadcast the positive news more often and to lessen focusing on the negative news, which cause anxiety and sadness amongst people."
Discouraging
"We should all discourage "finger pointing" behaviors at this time - this is a rather disruptive behavior that drains energy from good people and discourages them from working anymore."
He liken this behaviour to an analogy "if someone is attacked by a hungry lion, in order to defend oneself, a heavy duty gun is needed. One can't use a fork and spoon to fight the lion".
"When people try to force authorities not to accept donations like PPEs to help us fight Covid 19, it is like the public forcing someone to use a fork and spoon to fight a lion."
Fighting CoViD 19 cannot be done without PPEs.
"The public should also realize that - MOH staff have used PPEs all their lives as health professionals. They know what good quality PPEs and poor quality PPEs are. They will not use poor quality PPEs if they come across one."
In addition, Dr 'Akau'ola stressed that WHO is providing assistance in vetting PPEs and medical supplies to determine if they are of good quality or not.
"We need responsible information at this time to stop people from spreading unhelpful rumours that is causing stress and panic in the public."