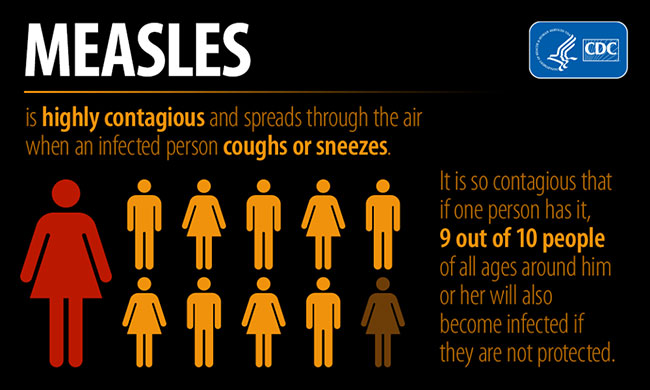 The Ministry of Health has confirmed 107 people have been confirmed or suspected to have contracted measles as at 28 October in Tonga with mild symptoms.
A situation report issued on 29 October stated male teenagers had been affected the most since a squad of rugby players returned from New Zealand where one player developed measles earlier this month.
So far, two people have been admitted to Vaiola Hospital and one to Prince Ngu Hospital in Vava'u and they were reported to be recovering well.
Meanwhile, a 20-year-old male athlete in a Tongan Futsal team was diagnosed with measles after arriving in New Zealand on 14 October. The rest of the squad however, flew to New Caledonia. New Zealand has contacted New Caledonia's national health centre to inform them of the situation.
Ministry of Health CEO, Dr Siale 'Akauola told Matangi Tonga that since the outbreak earlier this month, there had been no deaths out of the cases detected and there were no reported cases among health care staff to date.
"So far, the outbreak curve for Tonga appears to have passed its peak. It may peak again at certain localities but we hope that we can still manage and control it."
He said they were focusing again on vaccinating high risk people such as in boarding schools and babies above six months who are at risk of being in contact with known cases.
"We are also encouraging people to get vaccinated if they are unsure of their vaccination status and there is a risk they will come into contact with known measles cases," he said.
Tests reveal new finding
Tests done on some Tongan school rugby players who developed measles, even though they had been vaccinated with two MR doses as babies, revealed they had a slow immune response to the new challenge by the measles virus getting into their systems.
"We are looking at history of vaccinations done 15 to 16 years ago to see if we can find [the] type of vaccine used, batch, supplier and so forth," said Dr 'Akauola.
The Ministry of Health and World Health Organisation are working on this to see what could be behind this finding and plan for future ways to boost immunity if needed, he added.
"It is also an interesting finding which may impact all immunization programs we are currently doing."
"The good news is that although the boys still contracted measles, the symptoms were mild with no lasting consequence."
He added that while there is no such thing as 100% protection in this world, the two doses provide 98% to 99% protection.
"One dose of vaccine is said to give up to 95% protection."
Tackling outbreak
Dr 'Akauola acknowledged the hard work done by the health team, led by Dr Reynold Ofanoa, in tackling the outbreak in Tonga.
"I also wish to thank UNICEF and WHO for their support and for the New Zealand Government's offer for assistance in our fight against measles."
An extra 2500 doses of MR vaccinations that were ordered through UNICEF arrived in Tonga on 29 October to top up stock levels. The number of people who have had MR vaccinations since the outbreak are still being collated by health staff.
Measles is caused by a highly infectious virus that spreads easily from person to person through the air, via breathing, coughing and sneezing. Initial symptoms include, high fever, runny nose, cough, red and watery eyes and small white spots on the inside of the cheeks, followed by a raised, red rash behind the ears, face, upper neck, and spreads over the body.
For enquiries on measles vaccination contact:
Ministry of Health Contacts, Communicable Disease Unit
Dr Joseph Takai, Phone: 8880495 or 7709537 
Dr Louise Fonua, Phone: 7779822 
Reproductive Health
Sister Afu Tei, Phone: 7714623

Staff Nurse Limisesi Kaivelata, Phone: 7740505 

Related article: Measles alert for Tonga