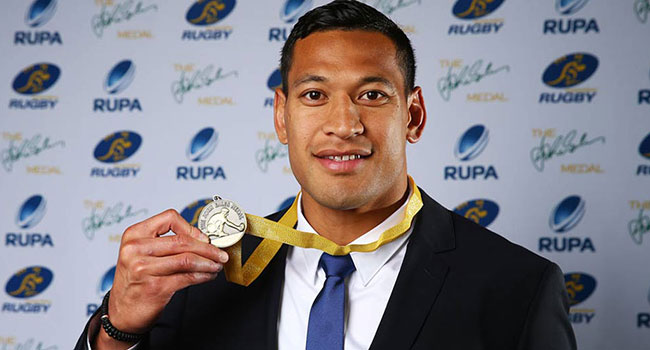 Tonga National Rugby League (TNRL) says it "knows of no rule that requires Israel Folau or any other player registered with the TNRL, to apply to the [Rugby League International Federation] RLIF to be eligible to play for Tonga" in a statement released on 24 September.
"That is not the procedure for any player to participate in the end of year games."
Legal advice sought by TNRL from Australia suggested that the eligibility rules entitled Israel Folau to register and play for Tonga, upon the grounds that he is by birth Tongan according to Tongan law, and his parents are both Tongan.
The TNRL comments came after announcing Israel's availability for the upcoming test games on Monday, 23 September. But this was refuted by the RLIF in a statement on the same day, that stated they were not formally asked to consider the matter.  
However, TNRL Chairman George Koloamatangi said he met with RLIF CEO Nigel Wood last Friday 20 September in Tonga to discuss several matters, including submitting a list of players to RLIF and the availability of Israel Folau to play in the upcoming tests.
The TNRL stated that a letter had been sent to the RLIF after Nigel Wood requested the matters discussed in writing, which included Israel Folau's availability. The letter was subsequently forwarded by Mr Wood to the RLIF Chairman, with a copy to the TNRL.
TNRL said they did not receive any negative response from the disclosure of Israel Folau's participation in the end of year games and took the view that the CEO for RLIF and other members of the RLIF did not object to Israel's involvement.
Israel Folau was then informed by the TNRL that he was entitled to play for Tonga having considered the eligibility rules and receiving no objections from the RLIF CEO. TNRL announced the news on 23 September.
According to the TNRL there is no formal application that requires Tonga to apply for any player to participate in the end of the year games.
TNRL confirmed the RLIF board will be meeting on Friday to discuss the matter further.