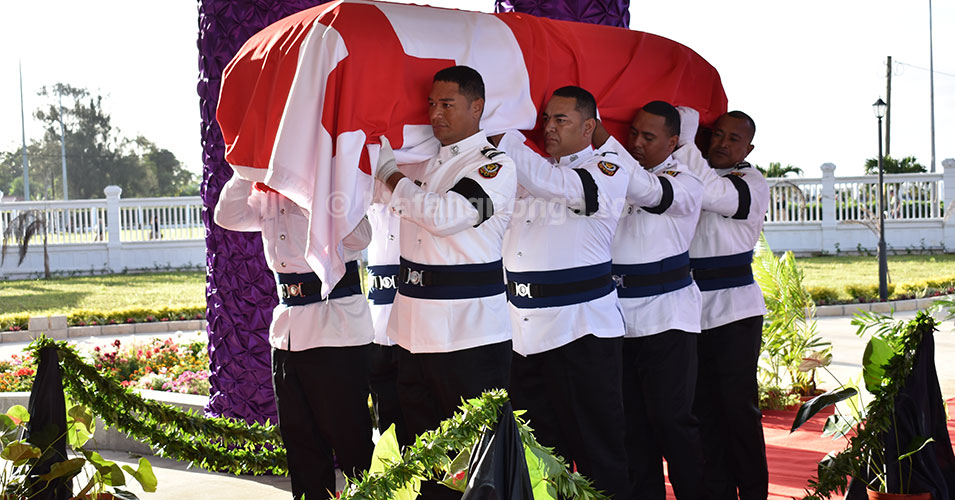 The cortege of Prime Minister Hon Samuela 'Akilisi Pohiva arrived at Fua'amotu International Airport on September 17 and was conveyed to the St George Government Building, where the Prime Minister Lies in State for two nights of vigil.
The cortege and funeral party arrived on a Royal New Zealand Air Force from Auckland. Princess Angelika Latufuipeka Tuku'aho was present at the VVIP lounge.
The cortege was received by the Acting Prime Minister Hon Semisi Sika, son Siaosi Pohiva, Cabinet Ministers and members of a receiving party. 
The casket was conveyed to the hearse where it travelled to central Nuku'alofa as students lined the side of the road to show their respect. The Tonga Police Brass Band then led the procession at the intersection of Mateialona and Taufa'ahau road. 
Upon arrival, bearers conveyed the casket to the bier at the St George Government Building Chanery, where Lord Ma'afu, the Minister for Lands and Natural Resources, Hon Frederica Tuita Filpe and the late Hon Pohiva's immediate family were already present.
He will lie in state at the St George Building Chancery for two nights of vigil, congregational prayer services and public viewing.
A funeral service will then be held at the Centenary Church (Saione) on the morning of September 19 before interment at Telekava Cemetery.