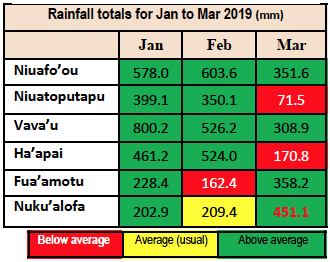 Nuku'alofa received its fourth highest rainfall on record in March of 451.1mm, more than double the average according to the latest climate update from Tonga Meteorological Services on April 16.
Niuafo'ou, Vava'u, and Fua'amotu also recorded above average rainfall while on Niuatoputapu and Ha'apai, rainfall was below average.
The highest rainfall ever recorded in Nuku'alofa is 783mm, in December 1972, with the second highest 726mm in February 1989, and the third highest rainfall recorded was 691mm in April 2010.
The highest rainfall recorded for all of Tonga was 1009.0mm in Vava'u, in January 1967. Vava'u also received the second highest rainfall of 925.6mm in February 2017. 
This month was cooler with the mean temperature recorded at 0.6oC cooler than average at 26.5oC. The highest temperature was recorded on 23 March at 32.4oC in Niuafo'ou and the lowest minimum temperature was 20.0oC in Vava'u on 15 March.
Rainfall forecast
Drier weather is forecast for Vava'u, Ha'apai, and Tongatapu from April to June with rainfall expected to be below average. However, average to above average rainfall is forecast for the Niuas (refer table 1 below).
From July to September, the rainfall forecast is average for Tongatapu and Vava'u, below average for Ha'apai and Niuafo'ou and above average for Niuatoputapu (refer table 1 below).
El Nino
An El Nino Alert is still in effect meaning there is a 70% chance of it developing in the coming months. 
However, although most climate models forecast El Nino-like ocean temperatures during May, and a cooling through winter, this suggests if El Nino develops, it is likely to be short lived and weak.
Tonga Met encourages the public to take note of the current weather situation and stay alert at all times to forecasts and warnings provided.
People should also seek advice from the relevant authorities of sensitive sectors, e.g. Agriculture, Water, Health and the National Emergency Management Office (NEMO) on the best practices to save lives and property and minimize the effects of natural disasters.