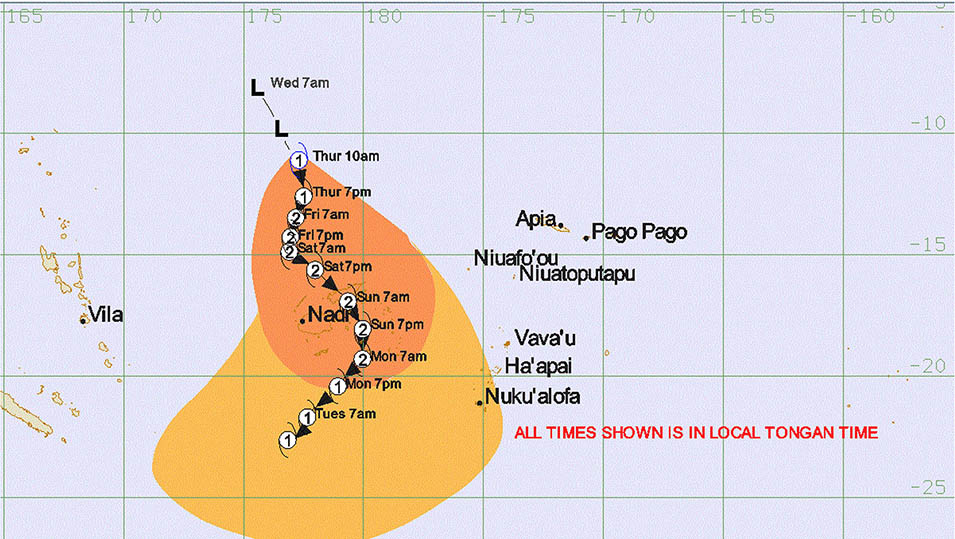 Two tropical cyclones have formed in the Western Pacific. TC Mona is expected to track over Fiji at the weekend and may intensify to a Category 2 cyclone.
Fiji Met reported that Tropical Depression 04F had intensified further and developed into a category 1 tropical cyclone at 10am this morning, named Tropical Cyclone Mona. TC Mona is expected to have average winds of 65km/hr with momentary gusts to 90km/hr. "It is intensifying and moving towards Fiji and likely to pass over Vanua Levu at 10am on Sunday. TC Mona may further intensify into a category 2 tropical cyclone in the next 24 to 36 hours as it approaches Fiji."
A Tropical Cyclone Alert remains in force for Vanua Levu, Taveuni and nearby smaller islands, Lau and Lomaiviti Group
Tonga
Tonga's Fua'amotu Weather Forecasting Centre in a spot weather report from Tonga's main island centres at 7:00pm today Thursday January 3, stated that on its current track the potential for Tropical Cyclone Mona to affect Tonga in the next 24 hours is low.
"TC Mona (cat. 1) was located at latitude 11.9S and longitude 178.2E at 4:00pm this afternoon or about 785km west-northwest of Niuafo'ou, 1130km NW of Vava'u, 1190km NW of Ha'apai and 1250km north-west of Nuku'alofa."
TC Mona is moving at a speed of about 37km/hr (20 knots) in a south- south-east direction.
Meanwhile, an active trough of low pressure system lies slow moving over Vava'u. Associated clouds with periods of heavy rain will affect Vava'u and other parts of the group. A heavy rain warning and flash flood advisory remains in force for Vava'u land areas.
Vanuatu
Another Topical Cyclone has formed to the west of Vanuatu. At 10:00am today TC Penny Cat 1  was reported to be moving east at 17 knots.