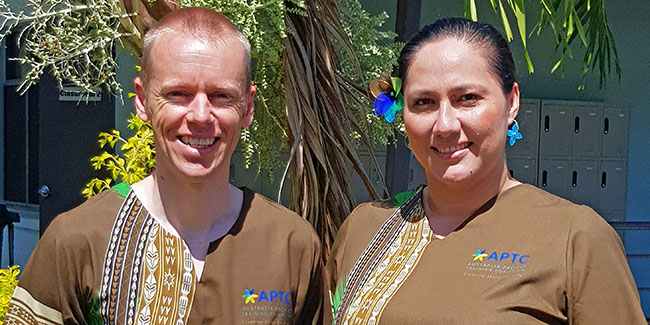 Ms Cheri Robinson Moors, former Deputy Vice-Chancellor at the National University of Samoa, has been appointed as the Australia Pacific Training Coalition (APTC) Country Director for Tonga and Samoa.
She is the APTC's first Samoan Country Director and took up her new role last month. Ms Moors has significant leadership and management experience working across the Pacific region, and will be working towards strengthening APTC's engagement with stakeholders in Samoa and Tonga.
"I am excited about my new role and the possibilities it offers from a professional development perspective but also in terms of supporting and effecting change for the better," she said. "I am looking forward to helping foster partnerships and connecting people in a way that achieves the objectives set out for APTC." 
Ms Moors is "confident that there are many individuals, champions and organisations that share in APTC's vision, and together we can realise the benefits a strong coalition can effect".
Mr Andrew Colquhoun is the new Vocational Training Manager in Samoa, having previously served as a trainer in Samoa. 
The new appointments are part of the new leadership team for APTC's phase 3.
Ms Moors said the new approach of APTC's Phase 3 would help facilitate opportunities, enable locally-led and context-appropriate initiatives that bridge skills gaps, and contribute to workforce development within Tonga and Samoa.  
APTC's Chief Executive Officer, Ms Soli Middleby, said APTC is delighted to welcome Ms Moors and Mr Colquhoun, and is confident that they will make a great management team, working in partnership to lead the already cohesive country office in Samoa, as well as to increase engagement in Tonga. 
APTC is Australia's flagship program for training excellence, helping Pacific Island citizens gain Australian skills and qualifications for a wide range of vocational careers. Around 13,000 graduates have graduated from APTC since it began operation in 2007.