By Mary Lyn Fonua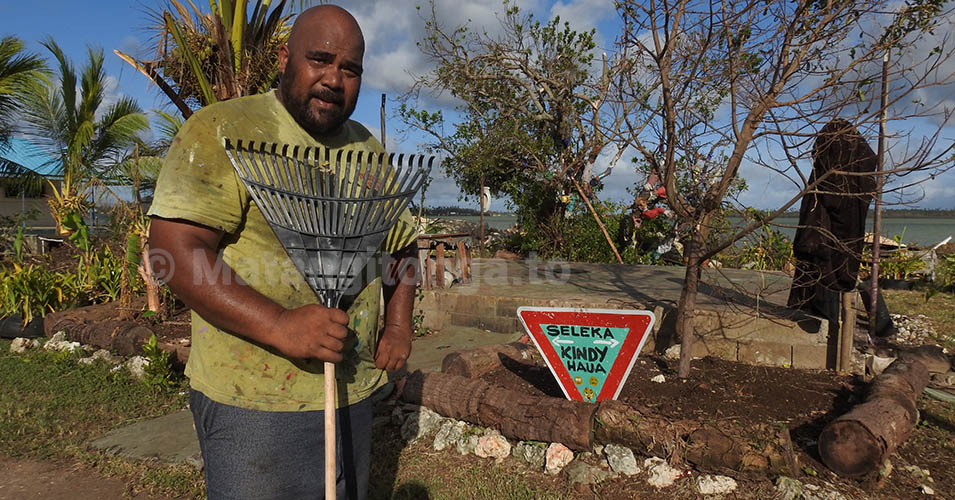 When Cyclone Gita blasted a dilapidated little Tongan fale into Fanga 'Uta Lagoon on the night of Monday February 13, home to a non-conformist Tongan artists group, the ferocious winds could not destroy the creative spirit of the Seleka International Art Society Initiative - SIASI  - a Pasifika creative that has made a name internationally.
"We will rebuild," club founder Tevita Latu, told Matangi Tonga this week. "But our landlord wants us to move out of here, so we have to find a new location."
No traces of the clubhouse remain except for the concrete foundation, a signpost and the club's trademark toilet seat hanging from a tree, at the lagoon-side block they call "Sele" at Haveluloto.
The club formed by Tevita in 2008, has been an artistic home for more than 100 young people. Its Facebook page @selekasiasi says the club is about "Enrichment of young people in the Arts". Tevita who has studied art overseas, helps young people channel their energies into positive activities. Last year he was invited by New Zealand's Massey University along with Seleka's David Hamani, Taniela Petelō and Virginie Dourlet for a residency to help develop an arts programme connecting Massey to the club in Tonga.
Emerging young artists used to gather every evening in the club's fale, which was built from salvaged timber and coconut fronds, to drink kava and make art. The group is an open house and sometimes a halfway home for some of the young people who may have dropped out of school or be from broken homes.
"As the sign says, this is for the Haua or the unwanted," Tevita said.
As he was busy sweeping up the community roadside this week, Tevita said he wasn't sure where Seleka club will move to next, but he's looking at perhaps finding some landfill to create their own space on the edge of the lagoon.
Seleka is about creating something new.