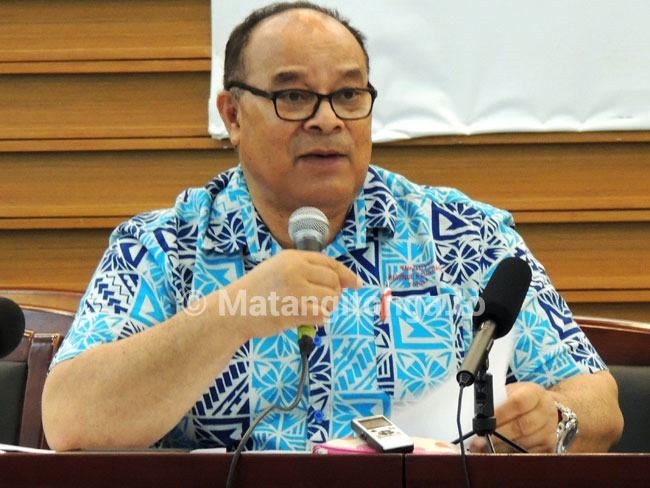 Tonga's Cabinet has ordered the cancellation of Tonga's hosting of the 2019 Pacific Games today citing the enormous challenge of mobilising finance and the impact of the cost on Tonga's budget deficit.
Cabinet minister Hon Pohiva Tu'ionetoa stated that the contract was between government and the Pacific Games Council. "We have advised the Pacific Games Council today." he told a press conference this afternoon.
"And we also had a meeting with TASANOC and the Pacific Games Organising Committee earlier today and advised them of our decision to cancel hosting the games," he said.
However, Hon Tu'ionetoa said that construction of a golf course at Popua, Teufaiva Stadium and Tonga High School Sports Complex was still going ahead.
Contract
'Onetoto 'Anisi, a spokesperson from the Sports Division of the Ministry of Internal Affairs told Matangi Tonga that the contract for hosting the 2019 Pacific Games was between the Government of Tonga and the Pacific Games Council and not between TASANOC and the Council.
Lord Sevele, chairman and CEO of the 2019 Pacific Games Organising Committee earlier said that the Tongan government does not have the right to cancel hosting the 2019 Pacific Games.
Withdrawal
However, a statement released this afternoon by the Prime Minister's Office stated that after careful deliberation, assessments and consultations, a decision had been reached by the Government of Tonga to withdraw its rights to host the Pacific Games in 2019.
"Over the last two years, the Government's determination and efforts to mobilise financial resources to fund the preparations for the Games has been an enormous challenge. With grave considerations that, should Tonga continue to strive to host the Pacific Games, the Government was concerned that this will jeopardize the Tongan economy and derail Tonga's macroeconomic stability and its ability to deliver its national priorities.
"Even though, the Government cannot fulfill its obligation to host the games at this critical stage; it will dedicate its efforts to strengthening the infrastructural facilities and cultivate sport development in the country, to enable it to host the games in the future.
He said that Tonga remains fully committed to working together in partnership with donor partners and the people of Tonga, supporting and offering invaluable contributions to the success of the 2019 Pacific Games. Hon Tu'ionetoa is Minister for Commerce, Consumers, Trade, Innovation & Labour and Minister for Revenue and Customs.
The decision to cancel the games appeared to be a sudden turnaround. On Thursday 11 May, the Prime Minister confirmed during a press conference at Popua that Tonga's hosting of the Games was definitely on.
Related article:
Tonga's economic growth increases but lacks recent stats