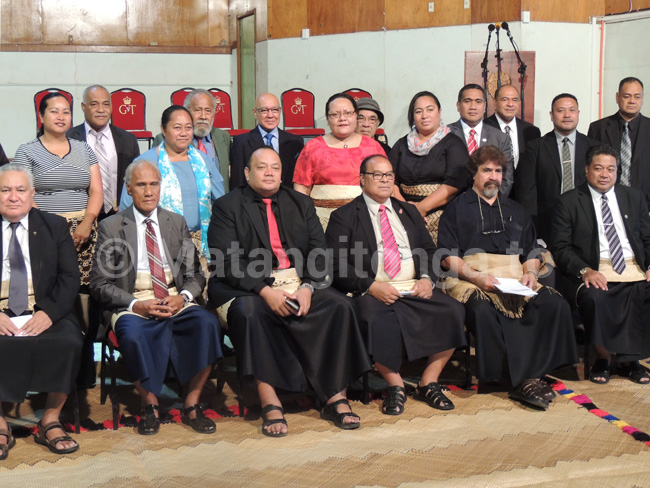 "In the sweat of thy face, shall thou eat bread. . ." Tonga's Prime Minister 'Akilisi Pohiva told hundreds of civil servants who attended the Public Service Thanksgiving Prayer Service at the Queen Salote Memorial Hall yesterday, 12 January.
He opened the new working year with a message full of biblical zeal and euphemisms.
Referring to his government's first year of service as a "maiden voyage" he admitted that although the steering compass was set toward a vision of "Good Governance" it had not been a year of smooth sailing.
"It is inescapable that we learn from the shortfalls in our foundational year," he said.
"The question is, how can we accomplish our vision, following the aftershock of the stormy seas through which we sailed over the past year?"
He said government along with the people, the king and the nobles would continue in 2016 to monitor and evaluate its services and performance.
"It is also fundamental to have in place strategies to combat corruption in a governance structure, due to egotism...," he said.
The Prime Minister referred to disobedience in the Garden of Eden and reminded the civil servants of God's commandment to Adam: "In the sweat of thy face, shall thou eat bread…"
The PM believed this statement was "the most effective and sustainable economic policy, which is not taught at any university."
He stressed that Tonga's economic development should be measurable and needed urgent attention.
 "We the public servants, are obliged to become faithful, honest, steadfast and humble servants," he said, while urging the ministers to become leaders with "loyalty, honesty, chastity and integrity."
PM Pohiva feared that negligence would lead to colonization of Tonga.
"Without diligence we may be colonized whilst residing in the country… This has been experienced by our neighboring countries and we have witnessed how they are not the masters of the heritage of their motherland," he said
The Prime Minister said he believed that "integrated governance" was a solution, but did not state what this meant, apart from concluding that there "is a need for continuous communication among all sectors and institutions…"
"It is time to move on from our current situations toward a better Tonga in every aspect," he said. "Let's have integrity in everyting we do, including our politics and economic developments."
There were a number of unanswered questions in the PM's speech.