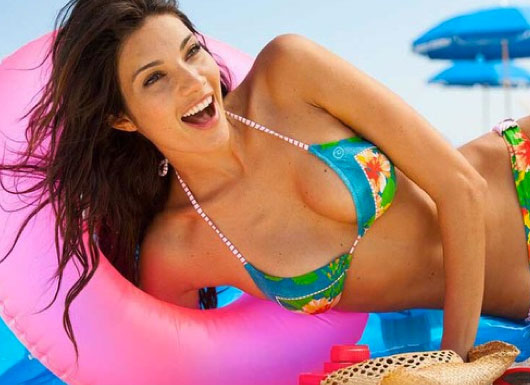 Tongan-born beauty Teresa Moore right now needs all the "Likes" she can get from her friends to make the next big step in her top-modeling career.
New York-based Teresa is in the final selections for the famous and often controversial swimsuit issue of American Sports Illustrated magazine, which according to some, is the arbiter of supermodel succession. The new models for 2016 will be decided over the next two weeks and largely by popular choice.
Teresa hopes her Tongan friends will support her bid by going to the Sports Illustrated website and writing a comment or sharing with friends. "I am in the final runnings and the more views, comments and likes - the more chance I will have to get into the 2016 issue!" she told Matangi Tonga.
One of her dear friends from Nuku'alofa school days is Elsie Fukofuka. "Teresa has made it to the Sports Illustrated casting call 2016, this is basically the biggest thing in the modeling world for mass market success. It will be I think a great boon to Tonga's profile if she makes it in," said Elsie. "But in order to get in the 2016 Sports Illustrated issue she will need people to like, share or comment on the link 
Teresa said the swim edition is published only once a year and launches supermodels from around the globe "The successful model is decided as a combination of social media likes, comments and views of the video and SI website, and likes and comments on social media for SI such as instagram @TeresaMooreMoore, twitter @MissTeresaMoore and Facebook.
Halaleva
Teresa holds fond memories of her early childhood in Tonga. She was born at Vaiola Hospital in Nuku'alofa to an Italian mother Lorenza Moore and her father, the late Ron Moore, an American who ran Moore Electronics in Nuku'alofa in the 1980s.
Teresa grew up at Halaleva and loved dancing in Suliana's Polynesian dancing group and at Gala Day at Tonga Side School, where she was in the same class as Princess Mata'aho.
She left Tonga at the age of 10 and the family moved to Auckland.
Teresa who started modeling in New Zealand is now managed by Elite Models New York. She has worked for international fashion and beauty brands and appeared on the covers of fashion magazines such as Elle and Vogue. According to her website, Teresa Moore was voted the sexiest woman in New Zealand and the 23rd sexiest woman in the world in 2010 by E! Entertainment TV. She recently made her first acting appearance in the Twentieth Century Fox pilot 'Gotham' and continues to study acting in New York.