Tonga's first solar facility with stabilising capacitor and micro-grid control system reaches practical completion and technical handover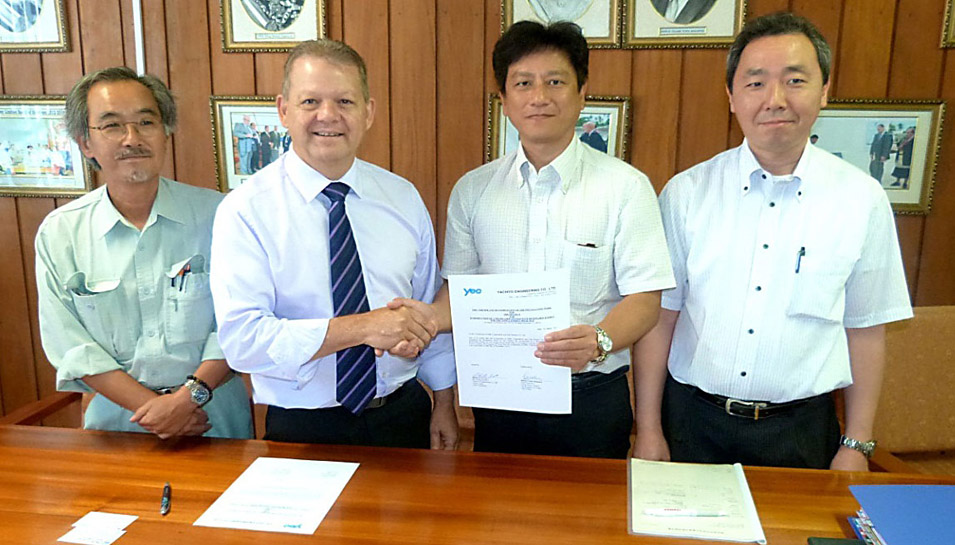 Tonga's First Solar Facility with Stabilising Capacitor and Micro-grid Control System Reaches Practical Completion and Technical HandoverTonga's first photovoltaic solar facility to introduce a stabilising capacitor and micro-grid control system reached a major milestone as the NBK (Nanyo Boeki Kaisha Ltd.) Japanese lead consortium of contractors and project consultants signed an agreement to mark the final completion and technical handover of the project.

The project was provided as a generous gift from the Government of Japan through JICA (Japan International Cooperation Agency) to assist Tonga in developing a clean source of energy to help offset the heavy reliance on fossil fuel for power generation.

The 1 megawatt solar facility came with two sets of 500kW stabilising lithium ion capacitor banks which are similar to a very large battery, but much faster. Its quick reaction to solar PV troughs caused by passing clouds is without doubt the reason it was chosen over traditional storage batteries.

According to Michael Lani 'Ahokava, TPL's Power Generation Manager, this is only the second of its kind to be installed by a Japanese company and the first to be offered as part of a major project by JICA to any country in the world.

The project comes with micro-grid control systems which are located at the Vaini and Popua generation sites to ensure that the new solar power plant can operate with existing diesel generators at the Popua Power Station.

The project handover marks the conclusion of the following milestones:
Site preparation and civil works
Electrical installation
Optical fibre works
Testing by subcontractors
Inspection and testing by Fuji Electric, the main contractor and on the job training
Handover of test reports, operational and maintenance manuals
Application to Tonga Power Ltd for the certificate of completion                                                        

As part of the project, Tonga Power will continue monitoring the micro-grid system and manage the operation and maintenance requirements of the solar facility with on-going support provided by Fuji Electric.

Since December 2014, Tonga Power's staff have undertaken comprehensive training in battery and solar technologies and onsite operational training for the project.

Robert Matthews, Tonga Power CEO said, "The plant has gone through vigorous testing since the beginning of this year resulting in the facility working highly effective and generating much needed renewable energy into Tonga Power's grid".

 "Our generation staff now has a clear view of what is required to ensure longevity of the operating plant and equipment and my sincere appreciation goes out to JICA and the people of Japan", he added.

Present at the project handover was the project manager from Fuji Electric, Takehiko Kojima; Yachiyo Engineering's Hidekazu Sato; JICA's project formulation advisor in Tonga, Shoiji Iwata; TPL's Power Generation Manager, Michael Lani 'Ahokava; members of the Consortium of NBK Corporation; and TPL's Power Generation staff.

The ceremony to mark the official opening for the Vaini solar and micro grid control system will held on Friday, 29 May 2015 at Vaini, Tongatapu.