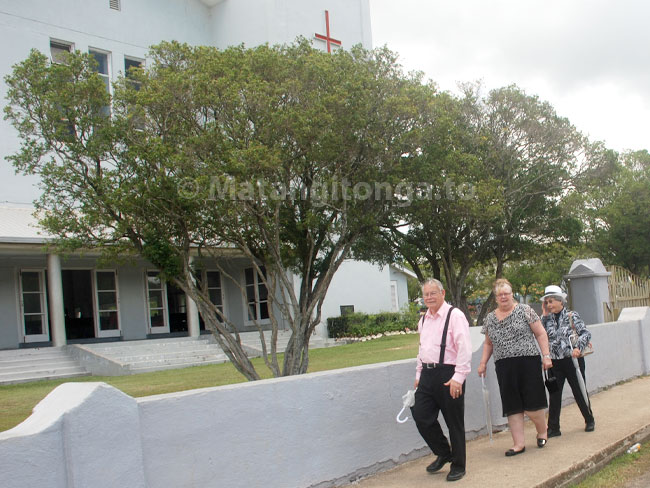 When 2000 visitors unexpectedly found themselves in Nuku'alofa today, Sunday, it was a matter of doing as they say "when in Rome do as the Romans do".
The visitors arrived on board two cruise ships the Amsterdam and Marina, which called into Nuku'alofa unexpectedly yesterday evening, 31 January.
Government offices and businesses were closed, the streets were quiet and on Sundays in Tonga the local people spend most of the day in church and with their families.
So many visitors took advantage of the situation and went to church.
"The choir was awesome!" said a man with an American accent, and his two female companions agreed as they left the Free Wesleyan Church.
On foot the visitors explored Nuku'alofa, which was very quiet, with little traffic on the roads, few taxis and hardly any locals to be seen on the streets.
One new attraction that the tourists discovered was a flying foxes tree on the Hala Vaha'akolo opposite the Royal Palace.
The few places which are open for businesses in Tonga on Sunday are bread shops, a coffee shop in central Nuku'alofa. Hotels, beach and islands resorts are open for their guests, and some restaurants are open in the evening.
Cyclone warning
Stewart Perry, the General Manager of the Tonga Tourism Authority said the Marina arrived at 6:00pm and the Amsterdam at 7.45pm on Saturday. Both ships had to detour to Nuku'alofa because of a cyclone warning that came into force around the islands of their destination. The Marina was heading to Samoa and the Amsterdam to Niue.
Earlier in on Saturday another cruise ship on its way to American Samoa had spent the day in Nuku'alofa, because of cyclone warning.
Stewart said that the Amsterdam was scheduled to arrive in Nuku'alofa on Monday, February 2 and it would stay on in Nuku'alofa as scheduled. He was thrilled with the fact that thousands of unexpected tourists spend some time in Nuku'alofa.