By Finau Fonua
A brakes failure on Real Tonga's 12-Harbin Y12 aircraft caused the aircraft to veer on the runway and disrupted flights to 'Eua on Friday January 2.
Heading to 'Eua for the day was the world champion shot-putter and Olympic gold medallist, Valerie Adams who was visiting Tonga with her partner Gabriel Price from December 29 to January 5. Valerie stated on Twitter "Eua plane cancelled due to faulty breaks... Stink @RealTongaAirlin get this sorted"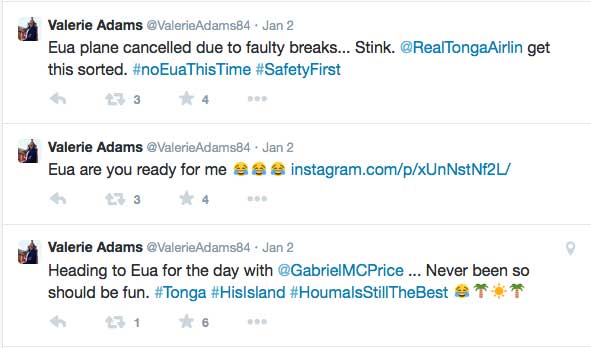 In a media statement today Tonga's domestic airline apologized to passengers for the flight disruption.
"The scheduled flight operated by a 12-seater Harbin Y12 aircraft was cancelled after one of its brake units malfunctioned, causing the aircraft to veer on the runway as it prepared for take-off," Real Tonga stated. "The plane was returned to the airport terminal with no further abnormalities.'
The HarbinY12E has since been released for service.
According to Real Tonga, "The engineers with the help of the Chinese Technical Service team from the manufacturer, had rectified the failure on Saturday and the aircraft was released to normal service.
"The airline wishes to apologize to the affected passengers for the disruption and is committed to continually improving its services."
Gift
The aircraft was a gift from China and presented to Tonga's King Tupou VI in Vava'u last August.
Tonga's Civil Aviation Authority was criticised for deciding to certify a Y12 aircraft without addressing demands by the International Civil Aviation Organization (ICAO) to upgrade its aircraft certification system. The two specific areas of concern expressed by the ICAO in a letter to the then Director of Tonga's Civil Aviation, Viliami Cocker on 15 July 2014, was for Tonga to upgrade its aviation safety certification legal frame work, and for Tonga to address its lack of aviation engineering competency.
The Y-12 is the second aircraft to be gifted by China to Tonga, the first was a 56-seater MA60 aircraft that was handed over to the Tongan government on 6 July 2013.
Real Tonga stated today that the aircraft type was certified in other countries. ..."the Harbin Y12E aircraft is type certified by the CAAC of China and the FAA of the United States of America."