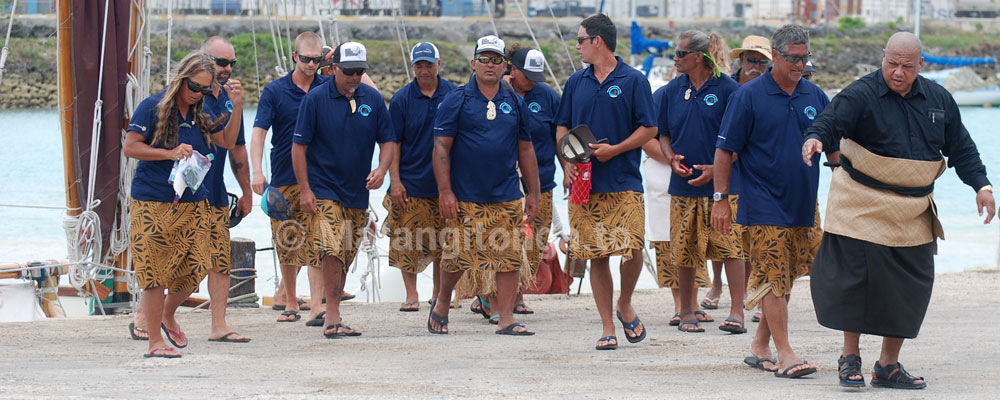 Two traditional double-hulled voyaging canoes from Hawai'i were welcomed in Tonga yesterday, October 23, at Faua Wharf, Nuku'alofa.
The Hokule'a and Hikianalia travelled all the way from Hawai'i. They tied up at the Faua Wharf just after mid-day when the crews were greeted by Lord Vaea and Prime Minister Tu'ivakano. Dances were performed by Lapaha Government Primary School and the Police Brass Band also provided entertainment.
Both vessels set sail from Honolulu on May 17 and have since visited French Polynesia, the Cook Islands, and Samoa. The boats are on a world voyage and are currently destined for New Zealand.
The Hokule'a is a replica of the traditional Hawaiian double-hulled canoe known as the "Wa'a Kaulua". The Hikianalia is supported by solar-powered motors.
The vessels are the initiative of the Hawaii based Polynesian Voyaging Society. According to its mission statement, it seeks to "perpetuate the art and science of traditional Polynesian voyaging and the spirit of exploration". The voyage is also promoting environmental conservation.
In Tonga and in most of the Pacific, the expertise and building of traditional double-hulled voyaging canoes has sadly disappeared, becoming a lost art. In the past, Tongan models such as the "Tongiaki" and the "Kalia" are known to have carried more than a hundred people and travelled regularly to Fiji and Samoa.