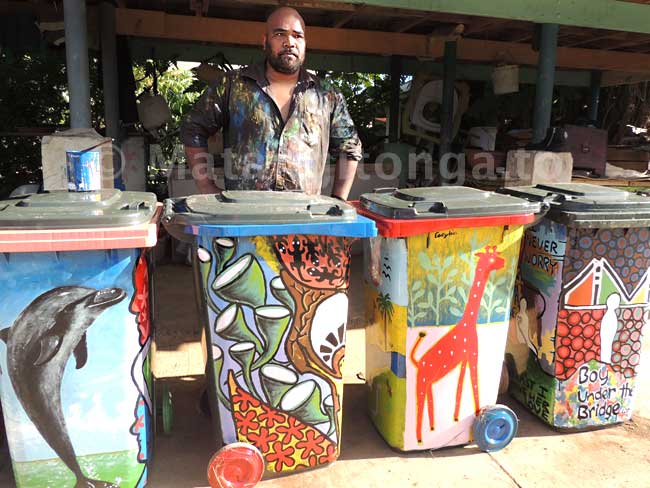 Colourful artwork, designed to catch the eye and change the mindset of careless litterbugs, is brightening the Nuku'alofa Central Business District.
Twenty colourfully decorated rubbish bins, painted by a talented local artist have been placed in various parts of the CBD.
Tevita Latu (36) who specialises in contemporary Pacific-tribal art was approached by the Ministry of Commerce, Tourism and Labour (MCTL) for the painting project, which began in late May.
The Ministry hopes that it will attract people to look at the art on the bins and remind them to put their rubbish into the bin and to stop littering the streets.
Tevita said his artwork depicted various elements of the Tongan culture including tourist attractions.
"Orginally there were only 10 bins but after the Ministry saw them they gave me another 20 bins to paint," he said.
Tevita is finishing up the final 10 rubbish bins to be deployed on Thursday, 24 July, while the first 20 were placed at the bus stops on the waterfront and on Taufa'ahau Road in the CBD two-weeks ago.
"This is a different medium for me as I normally paint using oil, charcoal and clay on paper. This uses oil coloured paint on plastic bins, which is a different approach. I fell in love with it halfway through the job," he said.
The artist who paints from his home in Havelu also has a small studio hut 'Seleko' that he uses to teach art to a few teenagers who have dropped out of school. "I want parents to know that they can send their kids to me if they are keen on art, and it's free," he said.
Tevita who studied art in New Zealand and at the National Art School in Sydney has been painting from a young age, encouraged by his parents. 
He regularly holds his own art exhibitions in Tonga while attending art exhibitions abroad including exhibiting work at the annual Market Place exhibition in Sydney.
His most recent work was exhibited at the 'Festival of Democracy' held by the 'Atenisi Institute in June. He is also planning an exhibition towards the end of next month.
"I am usually attached to my continuous art shows so this is the first time I have broken from that routine to do this. After looking at the completed bins I wish I could have done better so I am doing my best with the final ones. I like that people have been complimenting the art on the bins," he said.
Tourism
Tevita Lautaha the MCTL Acting Deputy Secretary, said it was part of their commitment to the Tourism Sector Plan by initiating projects to reduce rubbish and solid waste in Tonga, especially on tourism attraction sites and in public areas.
He said deploying of rubbish bins in prime locations such as the Nuku'alofa waterfront and the downtown areas was part of that.
"We brought in the artwork to try a different approach to change the mindset and perception of people to rubbish and littering. By featuring eye catching drawings on the bins to constantly remind people of how beautiful Tonga is and the need to collect their rubbish and not throw it around."
The Ministry is  planning to get more bins for this project.