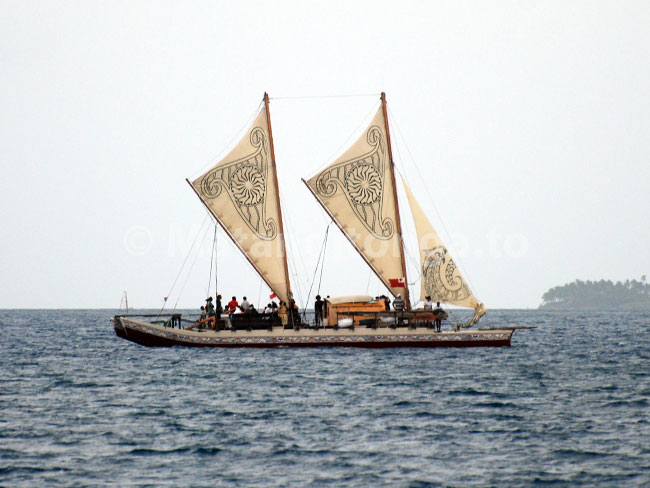 The sight of the Hine Moana kalia in full sail, entering the Nuku'alofa harbour on Wednesday, 24 October, was a reminder of Tonga's seafaring past.
The Hine Moana, with its Tongan woman skipper, 'Aunofo Havea Satuala, and a 13-members crew, stopped-over in Nuku'alofa for five days on their way to New Zealand.
The crew was made up of Tongans, Vanuatuans, Solomon Islanders, Fijians, a Samoan, and Kiribatians.
The Hine Moana, (the Guardian Lady of the Sea), is one of a fleet of seven Kalias that set sail from Auckland in April 2011, traversing over 140,000 nautical miles across the Pacific Ocean to California, USA. The fleet sailed south to Central America, and then back across the Pacific, reaching the Solomon Islands in July 2012 for the Pacific Arts Festival.
The fleet was made up of the Hine Moana, Faafaite, Haunui, Uto Ni Yalo, Gaualofa, Marumaru Atua, and Te Matau a Maui, in a project funded by a German millionaire. A crew of 129 intrepid sailors were recruited from 17 Pacific island countries.
After the Pacific Arts Festival the fleet dispersed and returned to their home bases, but they were expected to return to  Auckland in November. The Hine Moana was based in Vava'u, where 'Aunofo  works as a skipper and guide on a whale-watching boat. The mother of five children had to leave her  family for a couple of months to join the expedition,  which she regarded  with reverence.  "The vaka is reminding me of where we come from, of the beginning. The vaka is the connection to the other islands, something which has been lost and this voyage is the search for it."

'Aunofo, in a speech, thanking the local youth group 'On The Spot' for welcoming them to Nuku'alofa, explained that the trans-Pacific voyage was to convey a message to the world that there should be gender equality, protect the environment and that there should be peace on earth.