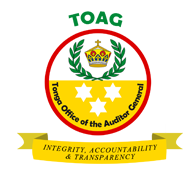 TONGA
OFFICE
OF
THE
AUDITOR
GENERAL
VACANCIES

x 3
• Audit Senior
• Auditor
• Receptionist/Filing
Tonga Office of the Auditor General (TOAG) is seeking for suitable candidates for:
• Audit Senior, Band J;
• Auditor, Band L; and
• Receptionist/Filing, Band P
of the salary ranges of the Remuneration Authority.
If you're a team player, observe both the form and spirit of auditing and ethical standards, update with ISSAIs and IPSASs, apply absolute honesty and ethical standards in carrying out your duty, and always meet deadlines, this could be the opportunity you've been waiting for.
Interested candidates who wish to apply may submit their letter of application, address to the Auditor General together with CV, certified copies of educational qualifications, transcripts, and any other supporting documents.
For the selection criteria, job description and other detailed information on the above positions, please contact Mrs Teuila Tai on telephone 7400-500 or ttai [at] audit [dot] gov [dot] to.
Applications close at 4:30 pm, Friday 27th January, 2023.
--
Matangi Tonga Online ref. #7075 Tonga Office of the Auditor General, 9-27 January 2023