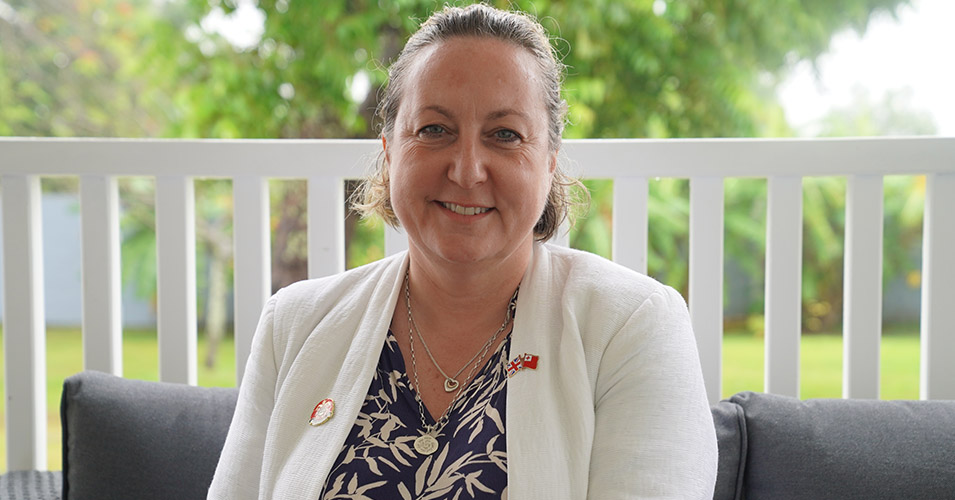 By Katalina Siasau
United Kingdom Minister of State for Indo-Pacific, Rt. Hon. Anne-Marie Trevelyan arrived in Tonga last night, for her first ministerial visit since the British High Commission in Tonga re-opened in 2020.
Minister Trevelyan participated in the 52nd Pacific Islands Forum Dialogue Partners Day, last week in Rarotonga - a dialogue between Pacific leaders and key partners that inludes the United Kingdom.
It was a really effective meeting, she said.
"It gave us a chance to really get a much better understanding of the issues at the front of the leaders' minds."
"Importantly, the core of everything else is the climate change, and climate shocks that the Pacific is feeling more than anywhere else, and that voice is really well heard...there is such a strong moral position that the Pacific countries have, that needs to be shared."
"Small Islands Developing States, Pacific, and the Caribbean, voices needs to be really strongly heard at COP28," she said.
Commitment to Pacific
In Tonga, Minister Trevelyan met with the Acting Prime Minister, Hon. Samiu Vaipulu, and the Minister for Foreign Affairs, Hon. Fekitamoeloa 'Utoikamanu, and also viewed some projects with the British High Commission in Tonga.
In an interview with Matangi Tonga, today, at the High Commissioner's residence, Minister Trevelyan spoke of the United Kingdom's commitment to the Pacific, in terms of investment opportunities, not only those that are important for the UK's  interests, but also including investments into some of the challenges Tonga is facing.
She said working here in Tonga, and in other Pacific countries, they are seeing how they can share their expertise and support for some of the climate challenges, defence and security, and other challenges as well.
The British High Commissioner HE Lucy Joyce said one of the important areas they were focusing on, since they re-opened their High Commission in Tonga, was education. She noted how important education is for Tonga.
They have increased the numbers for their Chevening and Commonwealth scholarships, and they are looking forward for further scholarship allocation in Tonga.
The High Commissioner said a key concern for them is maritime security, particularly Illegal, unreported, unregulated fishing, which is a huge issue in Tonga and the Pacific's vast ocean areas.
Royal friendship
Later, at a reception hosted by the High Commissioner this afternoon, Minister Trevelyan acknowledged the long-time friendship between the Tongan and British Royal households, from the time of Queen Sālote and Queen Elizabeth, to the present Kings, HM King Tupou VI, and HM King Charles III.
She noted that both countries have commonalities in celebrating their Royal traditions. She said they were deeply honoured that the King and Queen of Tonga attended the Coronation of King Charles III.
52nd Pacific Leaders Meeting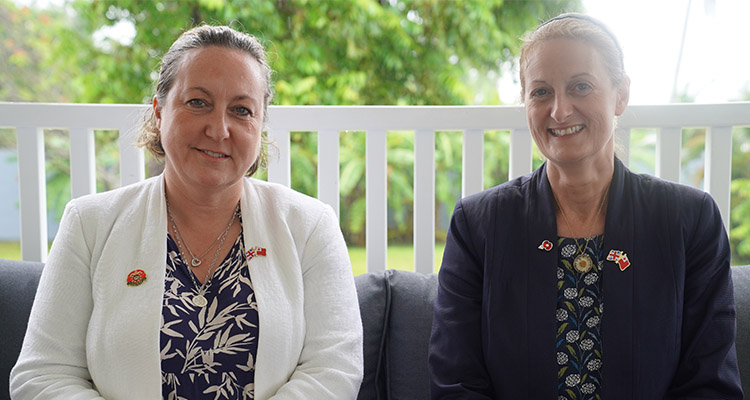 The Rt Hon Anne-Marie Trevelyan MP was first elected as Member of Parliament for the Berwick-upon-Tweed constituency at the 2015 general election.
She was appointed as Minister of State for the Indo-Pacific in the Foreign, Commonwealth & Development Office on 26th October 2022.
Anne-Marie has served as the United Kingdom's Secretary of State for Transport, Secretary of State for International Trade and President of the Board of Trade, and Secretary of State for International Development.
She was the UK International Champion on Adaptation and Resilience for the COP26 Presidency, and served previously as Minister for Energy, Clean Growth and Climate Change, and Minister of State for the Armed Forces and Minister for Defence Procurement.
She is a chartered accountant by profession.
--
Sponsored Post, ref.7654, sponsored by British High Commission, Nuku'alofa, 17 Nov- 18 Dec 2023