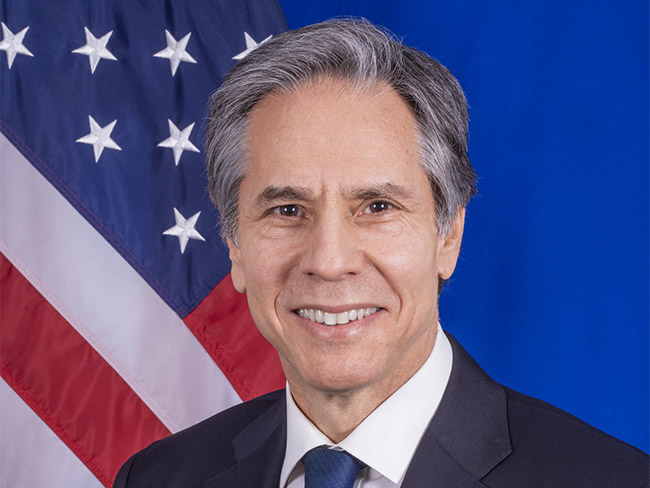 U.S. Secretary of State Antony J. Blinken will travel to Tonga, New Zealand, and Australia, July 24-29.
The U.S. Department of State announced last night that Secretary Blinken will visit Nukuʻalofa on July 26 "to dedicate the new U.S. Embassy and advance key discussions with our Tongan partners." 
"The Secretary will meet with senior officials to discuss our shared democratic values and vision of a connected, prosperous, peaceful, and resilient Pacific region."
Secretary Blinken is the first Secretary of State to visit Tonga, and this is the Secretary's third trip to a Pacific Island country, and his 12th trip to the Indo-Pacific region.
During a background briefing in the US on 20 July, Secretary Blinken told reporters they were starting up an embassy to reflect their strong ties with Tonga and, their desire to be engaged in places like Tonga, Solomon Islands, and in other countries on the ground. He was responding to questions about competition with China's presence in the region. "We're starting off – we're doing this deliberately, and we will start with a small team. We already have people on the ground, temporary duty officers, but we will have our first directly assigned officer on the ground in a few short weeks. And the intention is to also have an ambassador accredited directly to and resident in Tonga. So, we will be growing our presence. I don't want to speculate where that will end, but I can guarantee you it will not be based on the size of the PRC embassy in Tonga as a measuring stick. We are – want to be on the ground to improve the contacts, the lines of communication, the cultural ties with the people of Tonga; explore ways that we can deepen our cooperation. Tonga is one of three countries in the Pacific that has a military. And so that mil-mil cooperation has been important and will certainly continue and go forward. So that's basically what I would say on Tonga," he said.
New Zealand
The Secretary will then travel to Wellington on July 27 to hold important discussions on shared priorities with senior government partners.  Secretary Blinken will also cheer on the U.S. Women's National Team at the FIFA Women's World Cup.
Secretary Blinken will conclude the trip with travel to Brisbane July 28-29, to attend the Australia – U.S. Ministerial Consultations (AUSMIN) and hold bilateral meetings.
"Discussions will include coordinating on our vision for a free and open Indo-Pacific, deepening security cooperation, and advancing the third pillar of our relationship:  climate and clean energy," said the State Department.
Secretary Blinken announced the Indo-Pacific Strategy in Fiji less than 18 months ago.
-