By Eleanor Gee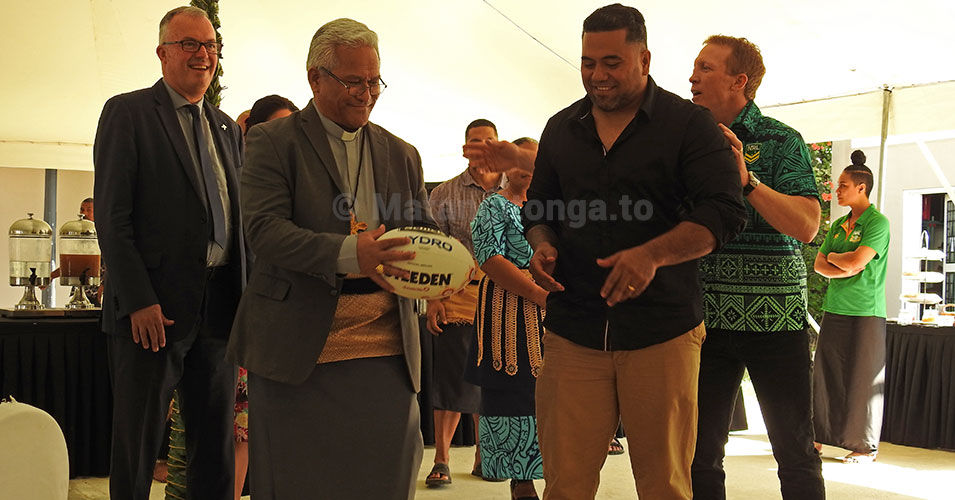 Rugby league will be used to engage young men in Tonga to prevent domestic violence under a Voice Against Violence Program launched by the Australian National Rugby League on September 5.
Supported by the Australian Government, the program integrates team training drills tailored to key messages on preventing domestic violence to be implemented by the Tonga National Rugby League throughout Tonga.
NRL Voice Against Violence Ambassador, Alan Tongue, a former captain of the Canberra Raiders and 2017 ACT Australian of the Year, said it is important to have conversations about preventing domestic violence with people at a young age and raising awareness through rugby league is a great way to engage them.
In a demonstration on how the program works, he conducted a training drill with groups of three people passing the ball, while at the same time using messages to prevent domestic violence.
"This is part of a drill we use in the voice against violence workshop. We talk about a ripple effect to your actions, and how your actions have an impact not only on your partners, your wives but on your community and having this conversation through rugby league."
If one person drops the ball or does not turn and pass during in the training drill, it affects all members of the team. So we all get affected by it. Domestic violence doesn't just affect a man and a woman, it affects our children and also cause health issues, he said.
In Australia, domestic violence is the leading cause of homelessness and it also causes injury and disability, financial strain on families and the economy. Ultimately the negative ripple effect is a death, he said.
Footy guys
Tavake Fangupo, NRL Country Manager Tonga said they hope to use the program as part of the rugby league participation in the community.
"We hope to educate our senior players regarding the program and how they can deliver it. It's always hard for footy guys to talk about domestic violence. The subject is always a touchy subject so hopefully we can break that and they can take the message back home to their families."
He said with local 30 rugby league clubs, this program would be part of the drills for every rugby league club so they can understand what they are trying to achieve.
Meanwhile, Australian High Commissioner H.E Andrew Ford, said sport such as rugby league is a great way to engage with the community on issues like violence, which are often sensitive to discuss.
"In addition to the benefits of living a healthier life, participation in sport can provide a safe and communal way to have to talk about the important issues which affect our families and communities."
He said whether in Australia, Tonga or every country around the world, violence against women and children is a difficult issue, which affects everyone.
"Sport and particularly rugby league is not the only way in encouraging physical activity and group camaraderie but also is a way we can build a better, safer community."
Attendees included the Bishop of the Catholic Diocese of Tonga, HE Cardinal Mafi, government and sport officials at Tanoa Hotel.