Photos by Linny Folau, Pesi Fonua and Adrienne L. Kaeppler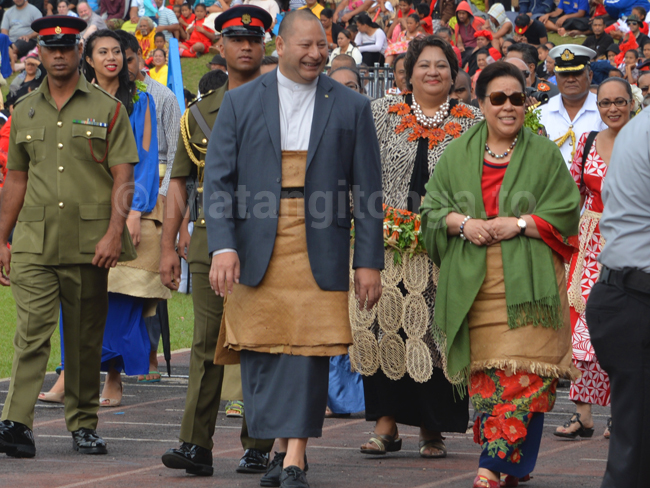 Thousands of students performed for King Tupou VI and Queen Nanasipau'u at a colourful Education Day on Wednesday, 1 July at Teufaiva Outdoor Stadium.
The theme 'Showcasing Education in Tonga' was in honour of the Coronation of the king, to be held on Saturday 4 July, at the Centenary Church.
Dressed in red and white, hundreds of primary school students massed to form the flag on the rugby field, while cheering for the King and Queen.
Students from Tonga's Institute of Science and Technology, 'Ahopanilolo Technical Institute and Monfort Technical Institute demonstrated their vocational skills in carpentry by building a house, and showing off hospitality and combat skills.
The King and Queen inspected school booths before Takuilau College girls performed a beautiful Fa'ahiula.
In the afternoon, traditional dances icluding Lakalaka and Kailao were performed for Princess Angelika Latufuipeka Tuku'aho.
GPS 'Atele, Veitongo, Pea and Tokomololo put on a colourful performance massing to form the Tongan Coat of Arms.
GPS Kolovai and FWPS Kolovai performed the Milolua Lakalaka of Kolovai village. The dancers performed movements that dramatize the kava mixing for the Tu'i Kanokupolu.
GPS Te'ekiu and Masilamea students performed a Fuekafa Lakalaka.
The official eight-day Coronation program began on Saturday, 27 June with the King's investiture as the 24th Tu'i Kanokupolu at a Royal Kava ceremony, the Taumafa Kava, at Mala'e Pangai Lahi. 
The coronation celebration ends on 7 July with a Military Tattoo.