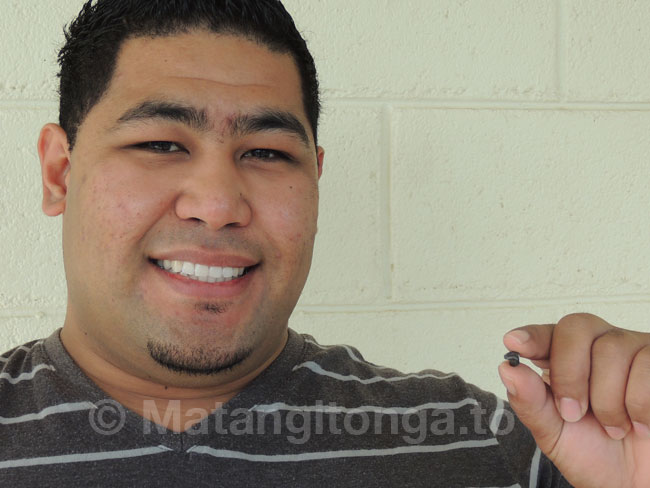 David Maka (26), who was shot in the United States four years ago, is grateful to a Chinese doctor who extracted a bullet from his chest, located close to his heart, where it could have killed him over time.
David Maka who lives in 'Anana, Nuku'alofa, received his free surgery on board the Chinese Hospital Naval Ship Peace Ark on Sunday, August 17 while it was berthed in Nuku'alofa for a week providing medical assistance to local people, including 39 surgeries.
Born in the United States and raised in Tonga, David who is now married, was shot three times in the stomach, chest and left thigh by a Tongan teenager who was confronting another member of his rugby team after their practice in East Palo Alto in March 2010.
"He shot my friend four times and I was shot three times when I tried to escape, but we survived. The shooting took place after an argument over a bicycle that a Tongan girl said it was hers. Another guy had mistakenly rode her bicycle thinking it was a friend's at the field and she got mad. She was swearing, and my friend who got shot with me told her not to swear. She confronted him and he slapped her, so she got mad and left, while talking on her phone.
"All of sudden a guy was confronting my friend, who was standing in front of me, and he yelled out for a gun. Out of nowhere, another boy with a hood ran down and started to shoot and I was caught up during the shooting. It's believed they were her brothers."
He believed that the shooter, who fled after the shooting, was later arrested by police in 2011 on a different case.
David said he didn't know the girl or her brothers before the shooting but they were Tongans. "I believe the gun was a 38mm," he said.
David was rushed to the hospital and underwent immediate surgery where the bullet in his stomach was removed because doctors were concerned it could have damaged his organs.
"They did x-rays and said the two other bullets in my chest and stomach were fine and gave me vaccination shots. I was told everything seemed fine on my chest and thigh but if anything happened to contact them," he said.
David who returned to Tonga in December 2011, said in the next year he managed to take out the second bullet on his left thigh at home with a razer as it was just under the skin.
"I then started experiencing aches and pain on my chest in that same year. It wasn't everyday pain but I would feel it if I had overworked my upper body, like cutting grass or playing touch. On some nights it was very hard to sleep because of the pain," he said.
Surgery
David said he heard from his mother that the Chinese vessel was arriving in Tonga on 13 August.
"I went there with my wife and one of the translators, filled up my form and they asked if I wanted to get a check up. I remembered my chest so I did it. They then advised surgery if I agreed to it, so I went to the ship on Sunday, 17 August for my second appointment."
He said the Chinese doctor needed to know where the bullet was located before performing the surgery.
"I went in at 8:30am but didn't have my surgery until 4:30pm in the afternoon because the doctor did a lot of x-rays and a CT scan to pinpoint the location of the bullet.
"He could have just assumed from the x-ray that the bullet was located just under my skin because that is how it appeared. But instead he really took the time to go through everything, which made me confident to go ahead with the surgery. He did his best," said David.
"The doctor operated for about an hour and 10 minutes. He told me after he took out the bullet that it was deep, as it was sitting on my rib cage wall just two inches away from my heart."
"I am really happy with the outcome of my surgery because it's really expensive to get surgery done in States. The total cost I got from extracting the bullet in the US was around US$6,000," he said.
David, who spent two nights on the Chinese naval ship before being discharged, said he was still experiencing pain since he had an open incision.
"It's been a week from now and I am recovering. I feel better although it has not fully healed. But I am getting around and very grateful to the Chinese doctor," he said.
The Peace Ark departed Tonga on August 20 to Fiji under its 2014 Harmony Mission to the South Pacific region.