Bank of South Pacific Tonga Limited (BSP) will reduce interest rates across a number of lending and deposit products, effective 6th September 2021. New rates will apply for Unsecured Personal Loans - now 13% (reduction of 5.50%), Secured Personal Loan – now 12.3% (reduction of 1.70%). Rate changes will also apply across some Demand Deposit and Term Deposit accounts – noted below.
In announcing the change, BSP Tonga Country Head Marcellina Wolfgramm Haapai indicated, "BSP Tonga had reviewed all its lending and deposit interest rates in line with the current economic environment taking into account the current levels of liquidity, product and account performance including current market.
"The reduction across Personal Loan products will only apply to new borrowers or 'top ups' (for existing personal loans) from 6th September, 2021. There will be no changes to existing Personal Loan accounts," she added.
"These changes will make BSP Tonga products and services more affordable whilst ensuring that the bank maintains a competitive position in market servicing the needs of its customers and broader community.
A full listing of interest rate changes are attached below - across Term Deposits as well as Pacific Package Account, Personal Cheque Account with Interest, Business Cheque Account with Interest and Plus Saver Account.
The new rates can also be accessed via the BSP Tonga website www.bsp.to from 6th September 2021.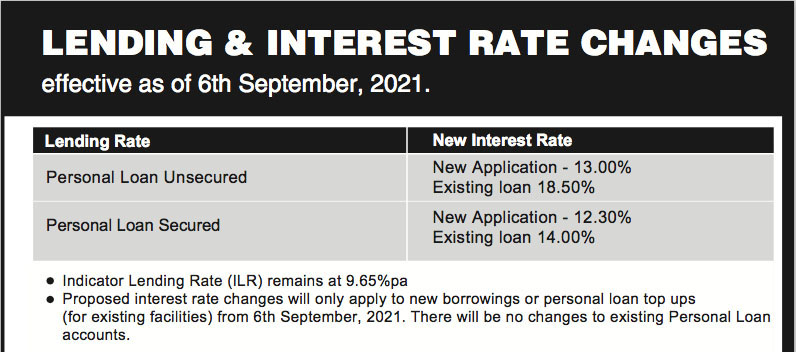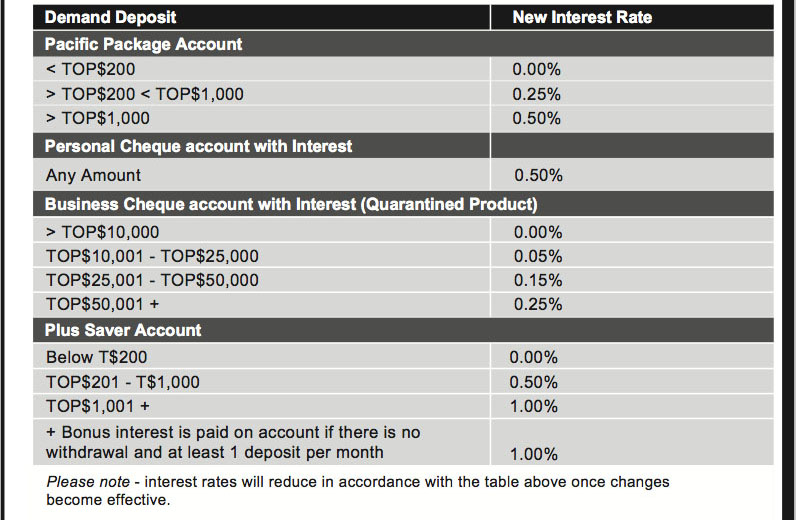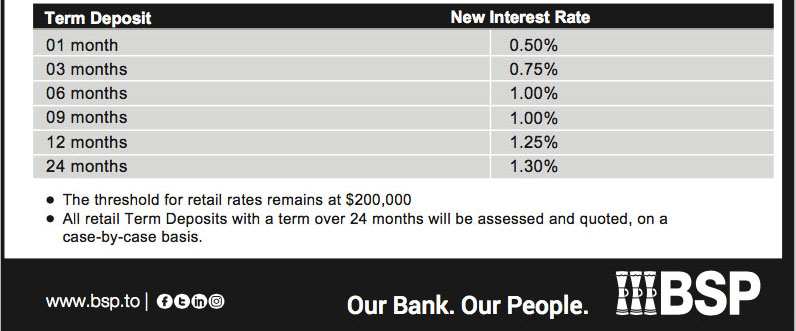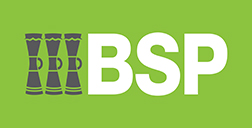 About BSP
Bank South Pacific (BSP) is an iconic and unique bank in Papua New Guinea and the Pacific, recognised for its strong commitment to the region. We are a major commercial banking and finance group with assets of approximately PGK18.2 billion.
BSP has the largest branch network in Papua New Guinea, Cook Islands, Fiji, Samoa, Solomon Islands, Tonga and Vanuatu with branches and sub branches in cities and towns in these countries, and also in remote rural locations. Our branch network is complemented by electronic banking networks that can meet the banking needs of our customers wherever we operate.
At BSP we are proud of our whole of bank capabilities whereby our teams in Corporate, Retail, Paramount and Treasury are able to provide solutions to our clients, drawing on our capabilities and broad presence. This capability is unmatched by our competitors.
PNG and the Pacific is our home. We have knowledge, history, experience and a commitment to the region that other financial institutes cannot offer.
www.bsp.com.pg/About-Us/Welcome-to-BSP
--
#6193 Sponsored Post 20210807-0908