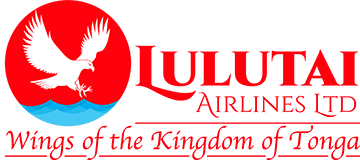 VACANCIES
FLIGHT
ATTENDANTS
Applications are open to all Tongans who love to take care of others while practicing safety on board our Lulutai Airlines Service.
If you feel you have what it takes to deliver the renowned Tongan hospitality and consistently deliver awesome service, this is an opportunity for you!
Interested candidates are required to apply for the role of a Flight Attendant.
Those with appropriate aptitude and potential will be selected to undergo specialized and thorough training to gain sound knowledge of their safety/service role and the required competencies needed to perform their tasks.
Successful completion of this training will qualify candidates for employment.
KEY RESPONSIBILITIES
Perform all assigned duties on the ground and in the air, in compliance with standard operating procedures and applicable regulations.
Deliver an exceptional onboard experience ensuring customer comfort and satisfaction consistent with Lulutai Airlines commitment to elevating onboard standards and service.
Demonstrate Tongan values of friendliness and hospitality, for the customer.
Promote wellness in a

COVID

-19 world, working together with the airline's Quality Assurance Department on all Covid 19 restrictions.
Identify customer concerns, and offer appropriate service recovery and corrective action when required
Adhere to Lulutai Airlines performance standards and grooming guidelines
Ensure conformance with Company policies and procedures
Undergo regular and recurrent training to ensure taught skills and knowledge are maintained.
MINIMUM QUALIFICATIONS, SKILLS & EXPERIENCE
Tonga School Form 7 Certificate (Year 13) pass or higher
Minimum age requirement of 18 years old
Excellent verbal and written communication skills in both Tongan and English
Must be able to swim without the aid of a flotation device
Must be a Tongan citizen (a current valid passport is an advantage)
Must be a team player and willing to work a 24/7 roster including weekends and public holidays
Must be physically fit and meets the Lulutai Airlines and Civil Aviation Authority of Tonga's medical and health screening requirements. This includes weight and height.
Ability to retrieve safety and emergency equipment and open and close overhead bins on the aircraft, from a standing position.
Ability and strength to operate equipment/systems, applicable to Lulutai's procedures during normal, abnormal and emergency situations
Must be able to travel unrestricted to all international destinations
Must not have a criminal record in Tonga or any international jurisdiction
Aviation or previous Flight Attendant Experience, First Aid training, hospitality or a teaching background would be an advantage
Previous applicants for this position do not need to re-apply.
Important note: Selection and subsequent training of successful applicants will be undertaken progressively, in batches, as per the needs of Lulutai Airlines (depending on the opening of the borders). As such, some suitably qualified applicants may be called for assessment earlier than others.
Letters to be addressed to Chief Executive Officer – Lulutai Airlines Limited

Send your application letter, CV, Certificates and a full-length picture of you in a business or traditional 
attire to vacancy [at] lulutaiairlines [dot] to or drop it off at the Lulutai Airlines office near you no later than 
04:30pm on 21st April 2021.