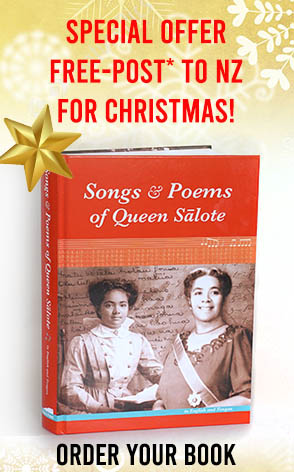 NZD

$219.00*
Songs

&

Poems of Queen Salote
In Tongan and English
Hardcover book, 488 pages
Reprinted 2019,
ISBN

982 213 008 2

•This is a limited-time offer available for current Matangi Tonga Online Subscribers.

Order your copy now and we'll pay for the postage from Tonga to New Zealand in time for Christmas!

We know you'd love to visit Tonga and pick up your family's copy of this Tongan classic, but since you can't come here, we are making it available to you with this special offer.

How to order:

Order by writing an email request, quote "Songs & Poems Special Offer" to: sales [at] matangitonga [dot] to
State your name
Your contact details
Your current Matangi Tonga Online username or registered email address.
Number of copies of Songs and Poems of Queen Salote that you wish to order
Postal Address/es for delivery of the book/s
We'll send you an invoice for payment, with instructions for payment by Visa, Mastercard or by Direct Credit.
We'll confirm receipt of your payment and the date the book is posted.
Terms and conditions apply:
Post-free price per copy

NZD

$219
Post-free offer for Matangi Tonga Online current subscribers only, at time of your order.
If you are not a current subscriber you may become one.
Offer for book only, without a clamshell box.
Postal address must be in New Zealand for this post-free offer
Vava'u Press Ltd will issue an invoice for payment
Orders must be prepaid
No returns accepted
Special Offer ends 31 October 2020.
Enquiries to: Irene Mafi sales [at] matangitonga [dot] to
Best Wishes from
Vava'u Press Ltd., Publishers,
Hala Vuna, Touliki, Nuku'alofa, Tonga
Tel. +676 25779