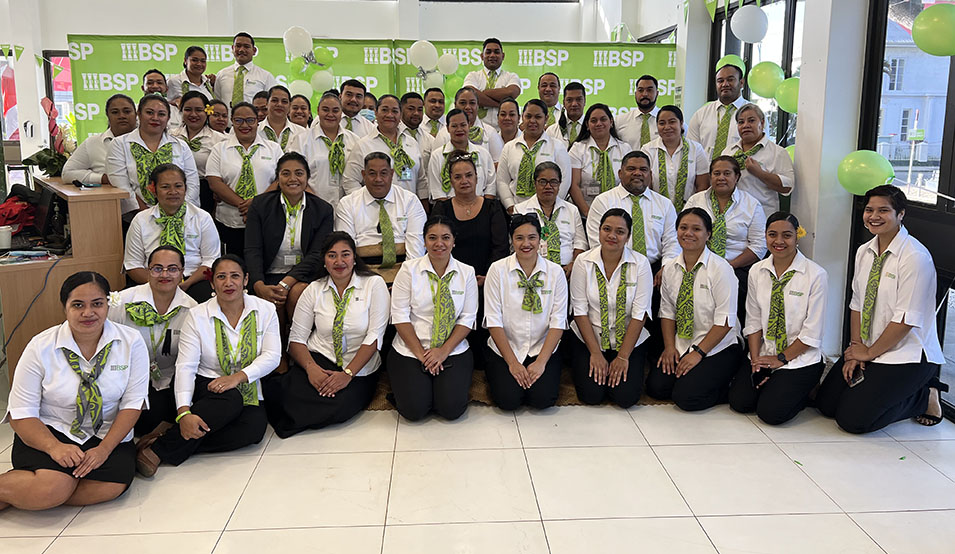 Bank of South Pacific Tonga Limited celebrated seven years serving the Kingdom of Tonga, on Sunday 10July 2022. BSP Management, along with local director Elizabeth Sullivan and staff marked this momentous occasion with a morning prayer on Monday morning at the BSP main branch – conducted by veteran staff member Rocky Tokotaha – who himself celebrates 33 years (spanning across the Bank of Tonga and Westpac) in banking. A short presentation was made by Elizabeth Sullivan to recognize staff achieving 5 and 10 years of service.
To mark the Bank's birthday in the community, BSP Tonga today presented Tonga Red Cross Society with a donation of $10,000 and other goods, to support ongoing charitable works. A separate donation of $2,500 was made to Community Leaders of Mango to support relocation to 'Eua. This was in addition to the $50,000 donation made to the Government of Tonga earlier in the year to support tsunami reconstruction.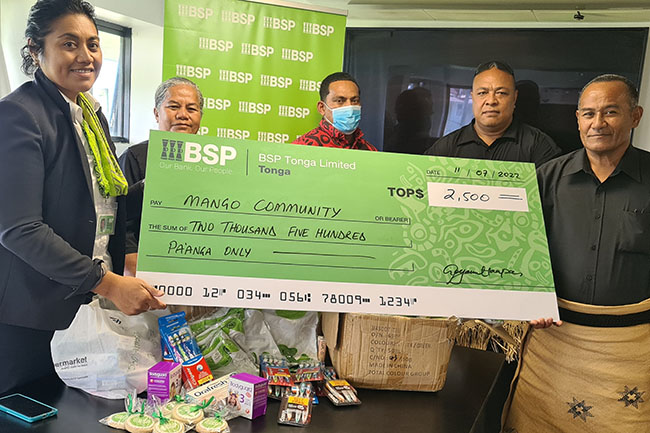 Country Head, Marcellina Wolfgramm Haapai, noted in her remarks it was a privilege for her to lead the BSP Tonga team and on behalf of the Bank, Directors, management and staff extended "sincere thanks to our loyal and dedicated customers for their ongoing custom, which has seen us retain our leading market position in Tonga."
Bank South Pacific (BSP) has over 70 branches and over 40 sub-branches in Papua New Guinea and the Pacific, and is recognised for its strong commitment to the region, as a major commercial banking and finance group with assets of approximately PGK28.9 billion.
"BSP has the largest branch network in Papua New Guinea, Cook Islands, Fiji, Samoa, Solomon Islands, Tonga and Vanuatu with sub branches and agents in rural locations. The BSP Group employs 4,000+ people across the Pacific and proudly supports the communities that we operate in, through Community Projects, Sports, Education, Health, Culture and Financial Literacy.
"Our branch network is complemented by electronic banking networks that can meet the banking needs of all customers wherever we operate," the bank stated.
--
Sponsored Promoted Content ref. #6789 14 July - 14 August 2022.