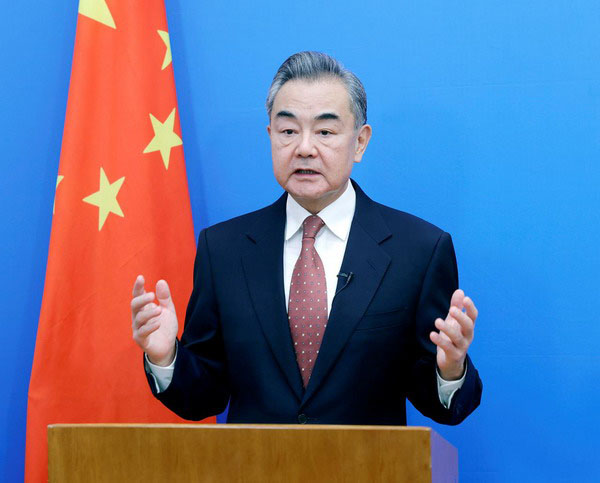 By H.E. Cao Xiaolin, Ambassador of the People's Republic of China to the Kingdom of Tonga
A long and traditional friendship
China and the Pacific Island Countries (PICs) have a long and time-honored history of friendship. Though far apart, China and PICs are closely connected by land and ocean, by similar cultures and mutual empathy, and by our businessmen and diplomatic envoys who have been traveling and exchanging products and ideas for centuries. From 1970s, China have established diplomatic relations with PICs on the basis of mutual respect and common development.
A new chapter in the bilateral relationship
In 2014 and 2018, Chinese President Xi Jinping made two visits to the South Pacific region and held group meetings with leaders of PICs having diplomatic ties with China, which opened a new chapter in the history of China-PIC relations. Ever since then, bilateral relations have witnessed unprecedented development, bringing tangible benefits to the people in the region.
On 24 June 2022, the Chinese Foreign Ministry released the Fact Sheet: Cooperation Between China and Pacific Island Countries, and Guangdong, Shandong and Fujian provinces released list of cooperation achievements with PICs respectively. This fully attests to the fact that friendly cooperation with PICs has become the joint action of various departments of China, as well as at sub-national levels. The ever deepening relations between China and the PICs have set up a good example of friendly exchanges, solidarity and cooperation between countries of different sizes and of different systems.
From late May to early June 2022, Chinese State Councilor and Foreign Minister Wang Yi will visit the PICs and chair the second China-Pacific Island Countries Foreign Ministers' Meeting, which further demonstrates China's commitment to enhancing mutual trust, building consensus, expanding cooperation and deepening friendship with PICs.
China's "four-pronged adherence" policy towards PICs
Mr. Wang Yi introduced the purposes of his trip to the PICs region when he was visiting Solomon Islands on 26 May 2022. He stressed that China will pursue a "four-pronged adherence" to developing relations with PICs.
First, adhere to treating each other as equals. It's China's consistent stance that all countries, big or small, are equal. When developing friendly relations with PICs, China will uphold justice while pursuing shared interests and follow the principle of sincerity, real results, affinity and good faith. China regards PICs as an important part of South-South cooperation and an important partner in building a community with a shared future for mankind.
Second, adhere to mutual respect. China always respects the sovereignty and territorial integrity of PICs, as well as the PICs people's efforts to explore development paths in line with their own national conditions. When conducting exchanges and cooperation with PICs, China has never interfered in the internal affairs of PICs, never attached any political strings, and never sought any geopolitical self-interest.
Third, adhere to win-win cooperation. China will continue to be an advocate, builder and promoter of PICs development. China stays committed to deepening pragmatic cooperation with PICs in various fields and sincerely helping PICs develop economies, improve people's well-being and enhance the capacity for self-driven development, and shares the dividends of China's development with the PICs people.
Fourth, adhere to openness and inclusiveness. The PICs region should be a stage for cooperation, rather than an arena for vicious competition. China's cooperation with PICs doesn't target any country, nor will it be disrupted by any country. At the same time, China respects the various ties that PICs have established with other countries, and are open-minded about carrying out more tripartite cooperation with other countries inside and outside the region.
A brighter future for China-Tonga relations 
Mr. Wang Yi will visit Tonga on 31 May and 1 June. During the visit, China and Tonga will sign cooperation documents on disaster prevention and mitigation, people's livelihood and others.
The relationship between China and Tonga is a shining pearl on the glittering China-Pacific relations. Since the establishment of diplomatic ties in 1998, China and Tonga have always respected each other's national independence, sovereignty and territorial integrity, and offered mutual understanding and support on issues bearing upon each other's core interests and major concerns. China and Tonga have maintained frequent high-level exchanges, deepened political mutual trust, yielded fruitful results through mutually beneficial cooperation, and witnessed ever-increasing cultural and people-to-people exchanges. The comprehensive strategic partnership between China and Tonga has been going to a higher level.
Good friends with sincerity and mutual respect
China highly appreciates His Majesty's Government for its firm commitment to the one-China principle, and fully respects Tonga's historical and cultural heritages and the right of the Tongan people to choose their own development path.
China is willing to enhance the coordination and cooperation with Tonga in international and regional affairs to promote regional peace, stability and development, to respond to non-traditional security challenges such as climate change and COVID-19, and to build a new type of international relation featuring mutual respect, fairness and justice, and win-win cooperation.
Communication between the heads of state have charted the course for China-Tonga relations. In March 2018, His Majesty King Tupou VI paid a successful state visit to China. President Xi Jinping and His Majesty reached many important consensus on the further development of China-Tonga relations.
In September 2021, President Xi and His Majesty had a telephone call. President Xi reaffirmed China's commitment to strengthening the cordial China-Tonga relationship and providing economic and technical assistance to Tonga within its capacity. In January this year, President Xi sent a message of condolence to His Majesty in the wake of the volcanic eruption and tsunami. Soon after this, two Chinese military airplanes and two naval ships travelled thousands of miles to Tonga and brought relief supplies including drinking water, food, medical and health kits, generators, high-pressure pumps and tents, to help the affected people.
Good partners for common development
Tonga is located along the route of the 21st Century Maritime Silk Road and has been an important partner of the "Belt and Road" initiative.
Ever since the establishment of diplomatic relations 24 years ago, China and Tonga have achieved fruitful cooperation results in trade, infrastructure, clean energy, agriculture, health, education, etc. China has supported Tonga to enhance its capacity on economic and social development. In infrastructure, China has helped build St. George government building, the Fa'onelua Conference Center, Tonga high school, Ha'apai high school and the sidewalks in Tongatapu in the effort to improve infrastructural conditions. China has also helped optimize Tonga's energy structure to achieve the goal of clean energy with investment in solar power stations and grant aid of wind power projects. China-Tonga cooperation in agriculture has significantly helped enrich Tonga's food varieties with a healthier people's dietary and a better food security, and China will continue to support Tongan small enterprises exporting products to overseas markets. Besides, the custom inspection equipment project and the fingerprint laboratory project from China will help Tonga Police combat illicit drug activities. 
In health cooperation, China has sent four medical teams, with a total of 37 doctors to work in Tonga. They traveled to the outer islands and delivered medical services to hundreds of families. After the outbreak of COVID-19, the Chinese government provided PPE worthy of RMB¥2 million and US$450,000 in cash through the China-Pacific Island Countries Joint COVID-19 Response Fund to Tonga for fighting the pandemic.  
Good mates for common progress
China and Tonga have unique histories and cultural traditions. Both are following development paths that suit their national conditions, and have made specific contributions to the rich and colourful world civilizations. China and Tonga have learned from each other by interactions in the fields of education, people-to-people and cultural engagement, and sub-national exchanges for a long time. The public support for China-Tonga friendly relations has been continuously consolidated. 
In 2018, China and Tonga signed the Memorandum of Understanding on Educational Exchange and Cooperation to support the establishment of Confucius Institute in Tonga and assist Tonga to cultivate its talents. In 2019, a seminar on the economic capacity building for the Tongan women was successfully held in China. In 2016, China and Tonga signed the agreement on mutual visa exemption, making people-to-people exchanges more convenient. China has offered government scholarships to around 300 Tongan students, and provided various training programs to nearly 1,200 Tongan government officials and people. The Ministry of Education of China and Liaocheng University have dispatched 16 teachers to Tonga to teach Chinese language and agricultural practice courses over the past years. Dongguan City and Ha'apai, Hainan Province and 'Eua have established sister-city relationship respectively.
A shared future for mankind
The world is facing combined impacts of changes unseen in a century and unprecedented COVID-19 pandemic. The global security situation as well as the world economic and social development are encountering  comprehensive challenges. The well-being of all countries is more closely linked than ever, and the international community needs a stronger solidarity, cooperation and joint response to all the challenges.
Under the vision of building a community with a shared future for mankind, China will continue to support the PICs in their national development and common progress. With concerted efforts, the comprehensive strategic partnership between China and the PICs will usher in a better future and bring more concrete benefits to the people in the region.
--
#6710 Sponsored Promoted Content 20220530-0613