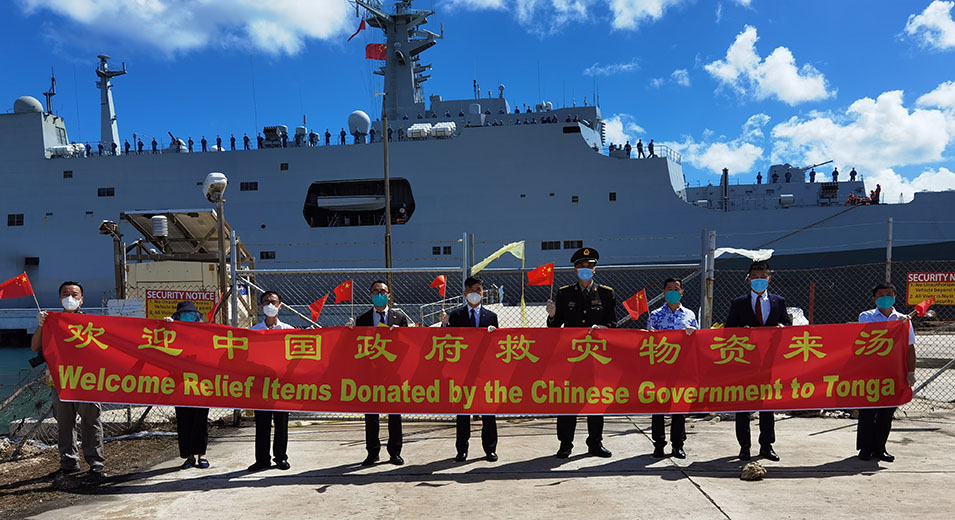 China Relief Assistance to Tonga
四海皆兄弟,万里同日升 / "We are one under the same sun / 'Oku tau kāinga ofi 'ia 'ofa"

By Col. (Ret'd) Siamelie Latu
The Kingdom of Tonga and the People's Republic of China established official diplomatic relations on November 2, 1998. The two governments agreed to develop friendly relations between the two nations on the basis of the principles of mutual respect for sovereignty and territorial integrity, mutual non-aggression, non-interference in each other's internal affairs, equality and mutual benefit, and peaceful co-existence. Since then, the Tonga-China relations have been kept flourishing and the bilateral cooperation yielded many fruits, which greatly benefited the two countries and two peoples. Now the relationship is at a level of comprehensive strategic partnership featuring mutual respect and common development.
The two Y20 military aircrafts, which have flown more than 10,000 kilometers to Tonga, strongly indicated that China cares about Tonga, thus confirming the statement made by President H.E. Xi Jinping at the general debate of the 75th session of the United Nations General Assembly.
"Facing the virus, we should show concern for and accommodate the need of developing countries. The international community needs to take timely and robust measures in such fields as debt relief and international assistance, ensure the implementation of the 2030 Agenda for Sustainable Development and help these countries overcome their difficulties."
Hence, the Chinese foreign policy is commendable in its aids to Tonga as a developing country, particularly after the volcanic eruption of 15 January 2022.
The Tonga volcanic eruption was the biggest blast in its history. It triggered shock and fear for the people all over the island Kingdom of Tonga. As an island, this huge disaster is unprecedented. It was such an unexpected incident for most people who did not have access to warnings on facebook the previous night or paid little attention to the warnings over the radio. In addition, while Tonga was still with the immediate post impact phase of the volcanic eruption, omicron virus infiltrated through emergency relief assistance from donor nations. Consequently, the islands of Tongatapu and Vava'u have thus come to an immediate lock down.
China Relief Aid
The prompt reaction of the People's Republic of China to first donate Emergency Disaster Relief Aid to Tonga on 19 January is sincerely appreciated.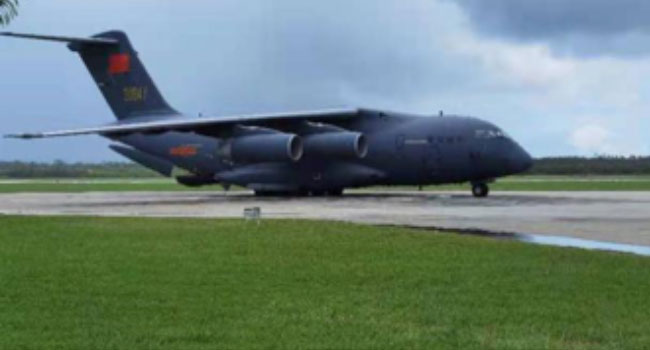 Eleven days after the volcanic eruption, two Chinese Airforce Y20 aircrafts delivered emergency supplies to Tonga on 27 January. Details are as follows:
On 19 January 2022 a batch of relief food and drinks of a total value of

TOP

$100,000 was donated by the Chinese Embassy on behalf of the Government of China, by the Ambassador of the People's Republic of China, to the Deputy Prime Minister of the Kingdom of Tonga;
On 21 January, the Red Cross Society of China donated

US

$100,000 in cash to the Ministry of Finance;
On 22 January, the Tonga Chinese Federation donated

TOP

$41,000 worth of the following supplies:

1200 boxes of instant noodles,
250 boxes of biscuit crackers, and
800 boxes of water.

On the same day, the Chinese National Mr. Wu Chuanlin who owns a barbershop donated

TOP

$ 800 worth of 400 boxes of water;
On 24 January, the Chinese government donated one million

RMB

which is about

TOP

$355,303 worth of emergency relief goods via two fishing vessels;
On 27 January, two

Y20

military aircrafts brought more relief assistance donated by the Chinese government to Tonga;
On 28 January, the Red Cross Society of China has also provided

US

$400,000 in emergency cash assistance to the Tongan government.
Furthermore, not only that China promptly provided emergency relief supplies, China also provided medical supplies since the outbreak of COVID-19. China donated two batched of medical supplies, including infrared thermometers, diagnostic kits, medical disposable protective garments, surgical gloves, face shields, medical protective goggles and N95 facemasks, and other items to Tonga in 2020.
China also provided US$450,000 in cash to the Tongan government in response to COVID-19 since 2020 under China-Pacific Island COVID-19 Response Fund. Apart from the relief assistance from the Chinese government, the Chinese community and Chinese enterprises in Tonga donated about TOP$220, 000.
Every single box of Chinese emergency relief assistance to Tonga has the slogan "We are one under the same sun" ('Oku tau kāinga ofi 'ia 'ofa) attached to it.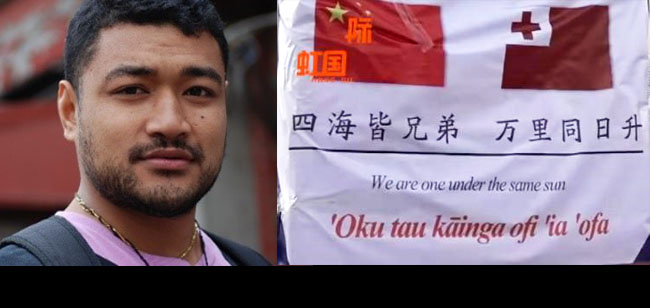 It is with great pleasure to proudly acknowledge the co-assistance between Taniela Moi'ahau Latu and Ms. Niu Li Executive Director, Research Centre for Pacific Studies, Beijing Foreign Study University as required by the China Central Media, to translate the slogan. Taniela graduated from Beijing Language and Culture University with a Bachelor in Chinese Business and Trade, and is currently teaching with his wife at Ivy Bilingual International Pre-School in Beijing.
Combined Task Group CTG 987 and AOR 905 of PLA Navy
China is also among the first countries to deliver post impact recovery and reconstruction relief assistance of 1405 tons to Tonga by the Combined Task Group (CTG 987) of PLA Navy which arrived on 15 February, local time. The supplies being delivered included food, drinking water, water purifiers, tents, prefab houses, tractors and radio communication equipment. Combined Task Group 987 (CTG 987) of PLA Navy is composed of PLANS Wu Zhi Shan (LPD 987) and PLANS Cha Gan Hu (AOR 905).;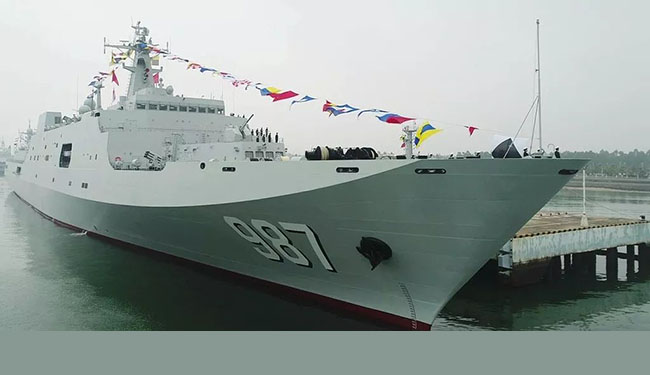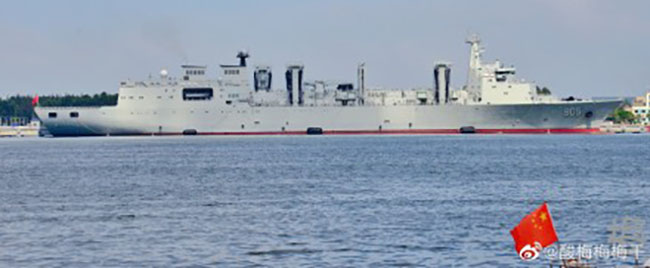 Details of Post Impact Recovery Relief Supplies Carried by the Navy Ships
In the past month, China has donated US $1,300,000 in cash and relief and restoration assistance worth over RMB ¥ 30 million (about TOP $10.65 million) in total since the volcanic eruption and tsunami disasters happened.
NO

.

ITEM

QTY

PLT

GW

(

KG

)

NOTE

1
Prefabricated house
200

PCS

50
4.00E+05
Tongan Government
2
Prefabricated house
300

PCS

75
8.00E+05
Tongan Government
3
Tractor
30

PCS

30
1.00E+05
Tongan Government
4
Disc plow
30

PCS

5
11000
Tongan Government
5
School desk and chair sets
200

SET

25
4320
Tongan Government
6
Walkie talkie
100

PCS

1
64
Tongan Government
7
Portable generator (I)
30

PCS

30
7050
Tongan Government
8
Portable generator (

II

)
20

PCS

20
1980
Tongan Government
9
Portable high pressure water pump
15

PCS

15
2175
Tongan Government
10
Brush cutter
20

PCS

2
240
Tongan Government
11
First-aid packet
278

CTN

18
5944
Tongan Government
12
Medical protective mask
100

CTN

7
1315
Tongan Government
13
Disinfectant
500

CTN

11
6500
Tongan Government
14
Bottled mineral water
980

CTN

14
14455
Tongan Government
15
Biscuit
1667

CTN

24
7340
Tongan Government
16
Instant noodle
1667

CTN

21
4240
Tongan Government
17
Portable generator (Shangwei)
50

PCS

50
10750
Tongan Government
18
Portable high pressure water pump
50

PCS

5
1425
Tongan Government
19
Electric saw
30

PCS

156
Tongan Government
20
Tent
50

PCS

3
1805
Tongan Government
21
Disaster relief kit
1500

PCS

94
22500
Tongan Government
So, as Tonga moves towards the 24th year of the establishment of its diplomatic relations with China, Tonga has witnessed the progress of development in its diplomatic relations and enhanced cooperation between the two countries. Tonga has offered its continued support to China, in international forums of which Tonga is a member. Tonga continued to support China's core values such as the reaffirmation of its recognition of the One-China policy and their joint understanding not to interfere in each other's internal affairs. These are the important tenets of our relations as they reinforce the principles of mutual respect for each other's sovereignty.
The Kingdom of Tonga and the People's Republic of China at people to people's level of friendship, have already established relationship among themselves with many Chinese establishing businesses and thus forming a small Chinese community in Tonga. The bond between our people is a very important aspect of our relations with the People's Republic of China.
So, in a people-to-people friendship perspective, a deepened understanding and cooperation cannot be underestimated. It can provide the critical bridges for overcoming differences and enhancing mutual trust and respect, which will lead to greater unity and confidence of society to pursue progress and prosperity for all. This is the need that spearheads our desire to partner with China at a people-to-people level and engender assistance through cooperation for better life. Thus, the establishment of Tonga China Friendship Association.
Tonga China Friendship Association
Tonga China Friendship Association presents a dynamic potential to reach all parts of the community. TCFA have the opportunity to change lives and bring about a better tomorrow through sharing our combined resources and knowledge. TCFA can strengthen economic cooperation; can deepen cultural understanding; and can provide a model for long term sustainable partnership at a people-to-people level. The Princess Royal, Her Royal Highness, Princess Pilolevu Tuita, President of Tonga China Friendship Association (TCFA) once stated that:
"Friendship at a government to government, people to people level, whilst time consuming and at times requiring sacrifice, most critically requires – mutual trust; mutual respect; mutual understanding; an emotional bond; and a common purpose and vision for the friendship."
On behalf of the President of TCFA, I would like to express our most sincere appreciation to the Chinese People's Association for Friendship with Foreign Countries for the donation of US $100,000 to Tonga China Friendship Association to assist in any way possible for the most affected victims. The assistance of Ms. Fang Fang, President of Fiji China Friendship Association, for a 1 x 20 foot of container relief supplies which will be delivered from Fiji to TCFA.
So, China has definitely marked its diplomatic relations with Tonga by donating disaster relief aid to Tonga in whatever way possible to demonstrate the great concern of the people of the People's Republic of China to the people of the Kingdom of Tonga. China's relationship with Tonga has progressed steadfastly and our common interest continues to expand. To mind, we have a great friendship and solidarity and it is my hope that our respective countries continue to build this by further working to identify areas of common interests.
- Col. (Ret'd) Siamelie Latu is Secretary General of the Tonga China Friendship Association, Former Tongan Ambassador to China, Former Acting Secretary for Foreign Affairs, Chief Coordinator Niuatoputapu Tsunami Operation (2009) and Commander Recovery and Reconstruction of Niuatoputapu (2009).
--
#6522 Sponsored Promoted Content, 202202180304