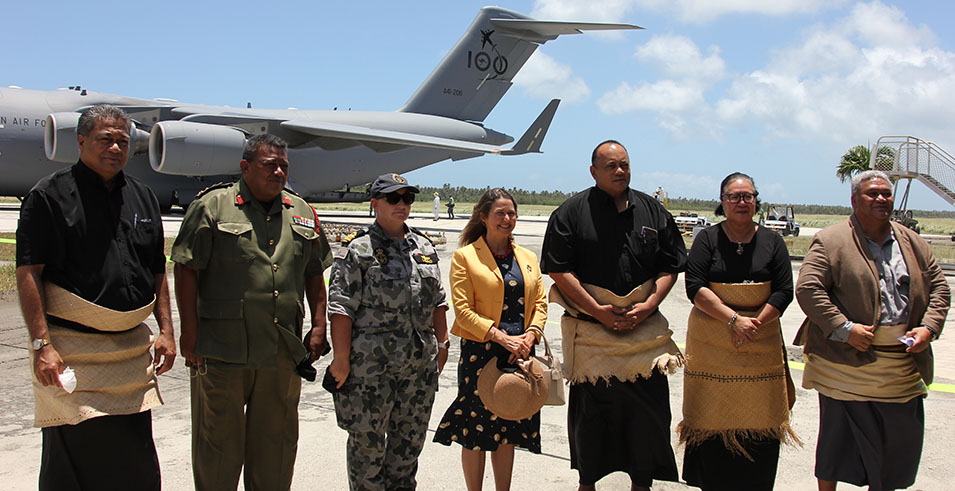 MEDIA RELEASE
26 January 2022
This Australia Day we acknowledge the resilience and courage shown by Tonga, part of our Pacific family, following the devastating Hunga-Tonga-Hunga-Ha'apai volcanic eruption and tsunami on 15 January. 
Our hearts go out to the families who have lost loved ones, as well as those who have lost homes, belongings and more.
We are proud to be supporting Tonga respond, recover and rebuild from this disaster.
The relationship between Australia and Tonga is longstanding and deep-rooted. We share strong cultural affinities, including through family connections, sporting ties, and a love of good food. It has been inspiring to hear about members of our 30,000-strong Tongan community in Australia mobilising to support their families back home in recent days.
Our Defence Cooperation Partnership enhances Tonga's defence capabilities and maritime security, including through Australian officers embedded with His Majesty's Armed Forces to provide technical advice, support and infrastructure.
We are proud of the critical role HMAF's Australian-provided navy vessels play in securing Tongan waters and responding to natural disasters like the one we have just seen.
As family, Australia is here for the long haul. We have supported Tonga's development aspirations for decades and will continue to do so.
Our Tonga-Australia Policing Partnership is helping Tonga Police to address illicit drugs and enhancing their response to domestic and gender-based violence.
The Outer Islands Renewable Energy Project has supported construction and installation of solar power systems in remote communities and the rehabilitation of existing grid networks for distribution.
We are helping Tonga to strengthen its health system with a focus on NCDs and COVID-19 preparedness and response.
And we are providing economic opportunities for Tongans through our labour mobility programs, which support Australian industries while boosting the economic growth of Tonga and the skills and financial resilience of individual Tongans and their families.
Our countries are there for each other in the best and worst of times. Today we reach out to say, Malo e ngaue, 'Ofa atu.
Rachael Moore 
Australian High Commissioner
--
ONGOONGO TUKU ATU
26 Sanuali 2022
'I hono faka'ilonga'I 'a e 'aho fakafonua 'o 'Aositelelia 'I he 'aho ni, 'oku mau tangane'ia 'I he loto to'a mo e vave 'a e ngaue 'a Tonga ki he fakaakeake hiliange 'a e faingata'a mei he puna 'a e mo'ungaafi 'I Hunga -Tonga-Hunga-Ha'apai fakataha mo e peaukula ne hake 'I he 15 'o Sanuali. 
'Oku mau 'ofeina 'a e ngaahi famili kuo mole honau 'ofa'anga, mo kinautolu kuo mole honau fale nofo'anga mo 'enau koloa tupu mei he fakatamaki ni.  
'Oku mau vekeveke ke tokoni mo poupou ki Tonga mo 'ene ngaue ki he fakaakeake mei he faingata'a na'e hoko.
Kuo ta'u lahi pea vaofi 'aupito 'a e va fengaue'aki 'a 'Aositelelia mo Tonga ni . 'Oku tau 'inasi loua pe 'I he malohi hotau 'ulungaanga fakafonua kau ai 'etau fehokotaki fakafamili, ko hotau va fengaue'aki faka-sipoti, mo 'etau manako 'i he me'atokoni 'oku vovo. 'Oku fakafiefia 'emau fanongoa 'a e ngaue malohi e toko tolu mano ko e kau memipa 'o e komiuniti Tonga 'I 'Aositelelia ke tokoni mai ki ho nau ngaahi famili mo e kainga 'I Tonga ni 'I he ngaahi 'aho kuo toko 'osi.
'Oku tokoni lahi 'etau va fengaue'aki faka-sotia ki hono fakalakalaka'I 'a e ivi malava 'I he ngaahi fatongia fakasotia mo e malu 'a e folautahi, hange koia 'oku fakafou 'I he kau 'ofisa 'Aositelelia  'oku nau tuku atu 'a e ngaahi fale'I fakatekinikale, mo e poupou 'I he ngaahi ngaue lalahi 'a e Potungaue 'a e Kau Tau 'a 'Ene 'Afio.
'Oku mau polepole 'I he fatongia mahu'inga 'oku ngaue fakataha ai 'a e sotia 'a Tonga mo 'Aositeleia 'I hono 'omai 'a e ngaahi vaka le'o ke tokoni ki hono malu'I 'a e potutahi 'o Tonga pea taliui ki he ngaahi fiema'u tokoni 'I he fakatamaki fakaenatula 'o hange ko ia na'a tau toki mamata tonu ai.
'Oku 'I heni 'a 'Aositelelia ketau fononga fakataha, he 'oku tau famili. Kuo ta'u lahi 'emau poupou ki he fakalakalaka 'I Tonga ni pea temau hokohoko atu ai ki he kaha'u.
Ko 'etau fengaue'aki 'I he fatongia faka-polisi 'oku tokoni ia ke tau'I 'a e faito'okonatapu pea fakalelei'I mo e ngaue ki hono ta'ota'ofi 'a e ta mo e fakamamahi 'oku hoko 'I 'api mo e komiuniti.
Ko e Polokalama Ngaue ki he Ma'u'anga Ivi Ala Fakafo'ou 'I he tukui motu 'oku tokoni lahi 'a 'Aositelelia ki he langa mo hono fokotu'u 'o e ngaahi sola 'I he 'otumotu mo hono fakalelei'I 'a e ngaahi laine 'oku tufaki ai 'a e ma'u'anga ivi.
'Ikai koia pe ka 'oku kau 'I he ngaahi tokoni 'a 'Aositelelia hono fakamalohia 'a e fa'unga ngaue ki he mo'uilelei kae fakatefito 'I he ngaue ki he ngaahi fokoutua 'ikai ke pipihi mo e tu'unga mateuteu 'a Tonga ki he COVID-19.
Ko e langa faka'ekonomika 'oku mau tokoni ai ki he kakai Tonga fakafou 'I he'emau faingamalie ngaue ki 'Aositelelia 'aia 'oku ikai ngata 'I he'ene tokoni ki he fakalakalaka 'a e ngaahi ngaue'anga 'I 'Aositeleia, ka 'oku langa hake ai 'a e tupu faka'ekonomika 'I Tonga ni, fakalahi e  'ilo mo e taukei ngaue pehee ki he ivi fakapa'anga 'a e ngaahi famili mo e kakai Tonga 'oku nau ma'u 'a e faingamalie ngaue.
'Oku fepoupouaki 'a hotau ongo fonua 'I he taimi faingata'a mo e taimi monu'ia. 'I he 'aho ni 'oku mafana 'a 'Aositelelia ke fakahoko atu - Malo e ngaue, 'Ofa atu.
Rachael Moore
Australian High Commissioner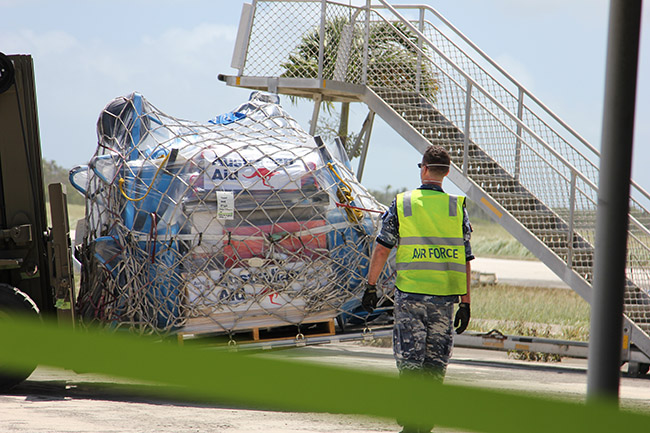 #6500 Sponsored Media release 20220126020203