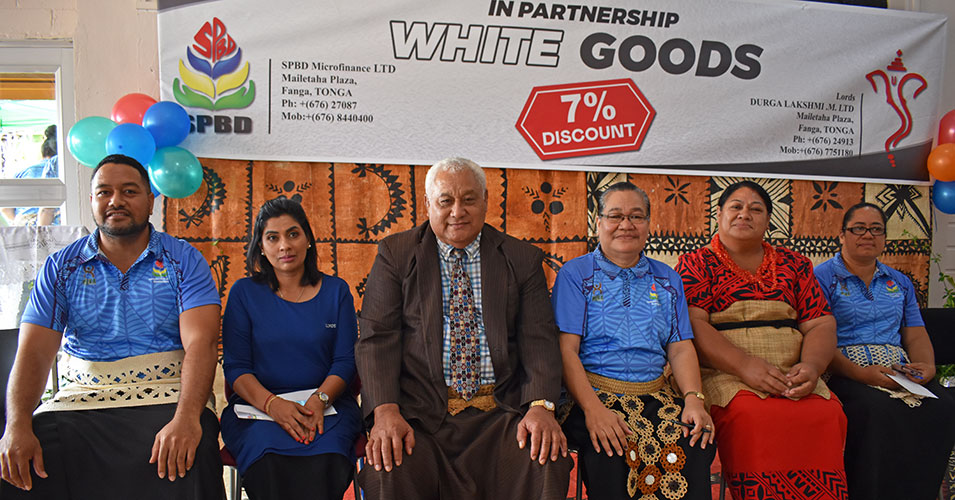 The South Pacific Business Development (SPBD Tonga) Microfinance empowers its members to start, grow and maintain micro-businesses. The organization provides them with the access to financial and business development services, as well as the opportunity to build assets, improve financial security and to finance housing improvements and education. 
"Yes, we are empowering our members to dream big and to achieve their dreams – and then supporting them along the way," said Fine Tu'ipulotu, General Manager, SPBD Microfinance Limited (Tonga).
"On 1 October 2021 SPBD Tonga achieved another milestone in its journey by introducing its newest loan program "White Goods Financing (WGF)" in partnership with Durga Lakshmi Manufacturing Ltd (DLM), one of the largest white goods retail stores in Tonga.
"SPBD and DLM have joined together to reach out to all villages across Tonga so that high-quality but affordable white goods and major appliances will be accessible to these communities to uplift and improve their living standards, support sustainable livelihoods, and improve their productivity at home."
SPBD has an extensive distribution network and covers villages on Tongatapu, Vava'u, 'Eua and Ha'apai.
"As such it has an extensive rural network which can become a new market segment and lucrative distribution network for DLM," she said.
The organization and its members have grown together. Through SPBD's microfinance assistance, its members have been able to establish small businesses, and over time these businesses have grown requiring larger capital and markets.
"They also aspire to buy white goods, appliances to help their business flourish. This is the main aim of this WGF program launched on 1 October. SPBD opens doors and opportunities to its members through financing, so that they can purchase and access good-quality white goods with pride and dignity."
Highlights of the WGF Loan Program.
Simple and quick processing. Easier for the members to avail.

SPBD

members who access this program will receive a 7% discount.
Free delivery of White Goods within Tongatapu
Full package of services including
Business Training
Financial Education Program
Weekly Client interaction
Other Loan Product available
Loan amount ranging between $500-$2,500.
--
#6320 Sponsored advertising content 20211005-1012