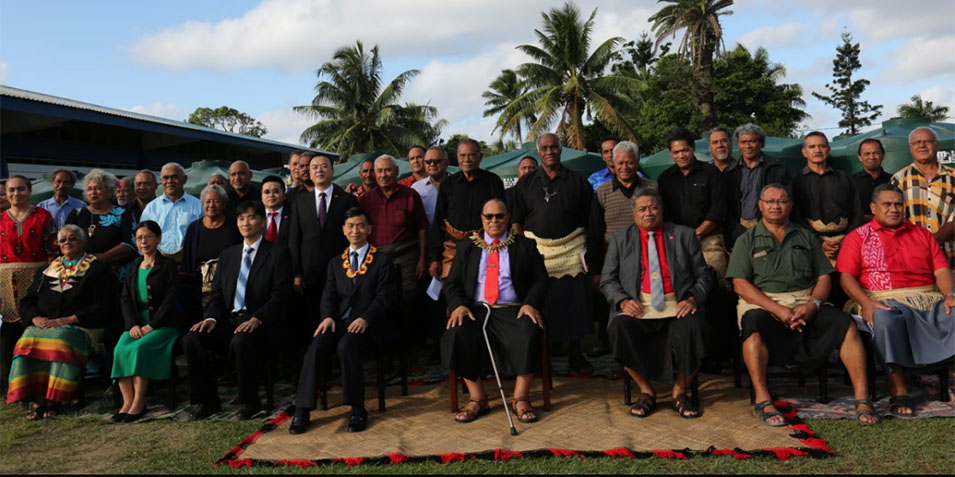 -Speech by H.E. Mr. Cao Xiaolin at the handover ceremony of the water tanks donated by China to Tonga
Hon. Prime Minister Rev. Dr. Pohiva Tu'i'onetoa,Hon. Ministers, Ladies and Gentlemen, I am very happy to attend the handover ceremony of the 500 water tanks donated by Dongguan City, Guangdong Province, People's Republic of China to the Government of the Kingdom of Tonga.
With the impact of Covid-19 and the tropical cyclone Herald, water security is a big challenge in Tonga, especially in the outer islands. Based on my visits to the various parts of your good country since last year, I learned that water tanks are the most important necessities for all Tongan families and that there exists a big demand for them. Water tanks have become one of the most urgent needs of many Tongan families. The Tongan Government has launched a big project under the Ministry of MEIDECC to meet the needs and to help the Tongan families be more resilient in response to climate change.
We can imagine how tough life would be without drinkable water for many families. A friend in need is a friend indeed. That is why China provided more than 100 water tanks to the Tongan Government last year. At the challenging moment this year, China wishes to provide timely help to the Tongan Government with these 500 water tanks from Dongguan City, Guangdong Province to support the Tongan Government to ensure water security for the Tongan families.  
These water tanks are a symbol of the close and cordial friendship between the Chinese Government and the Tongan Government, and between the Chinese people and the Tonga people. I can summarize three features of the close friendship between our two countries.
First, our friendship is based on mutual respect. The national conditions of China and Tonga are quite different from each other. China is the biggest developing country in the world, with a population of 1.4 billion, while Tonga is an island country with a population of around 100,000. But China regards Tonga as an equal member of the international community. We respect each other and will not interfere in each other's internal affairs. The leaders of our two countries agreed to upgrade China-Tonga relationship to the comprehensive and strategic partnership of mutual respect and common development in 2018, which demonstrates that mutual respect is the solid foundation of our friendship.
From a broader perspective, China holds that all countries, large or small, strong or weak, rich or poor, are equal. And China follows the principles of sincerity, affinity, good faith and real results in strengthening cooperation with other developing countries. In this aspect, China will always be an equal partner to Tonga, and Tonga will be a trustworthy partner to China.
Common Development
Second, our friendship is to pursue common development. If we look at the world, we can find that many people are still struggling with poverty, famine and diseases. Some rich countries are getting richer while poor countries are getting poorer. As long as this situation persists, the world can never enjoy lasting peace and prosperity. We believe that development is the right of all countries, rather than the exclusive privilege of the few. China seeks happiness for the Chinese people, and also the well-being of all others. As a developing country itself, China shows great empathy for other developing nations plagued by poverty and hardship, and provides assistance for them as far as its capacity permits.
In order to pursue common development with Tonga and the other Pacific Island Countries(PICs), China will have a closer cooperation with countries in the Pacific area by building the China-PIC Emergency Supplies Reserve Warehouse, the China-PIC Cooperation Center for Poverty Alleviation & Development, the China-PIC Cooperation Center in Response to Climate Change, etc. China will continue to do all it can to promote bilateral cooperation with Tonga in agriculture, infrastructure, renewable energy, education, health and many other areas for common development. 
Third, our friendship is to build a global community of shared future. Today, the interconnections and interdependence between different countries are closer than ever before. All countries coexist in the same global village, where each needs to safeguard humanity's common interests together with other countries, while pursuing its own interests. Many problems, such as climate change, epidemic and so on, are no longer confined to individual countries, and many challenges cannot be overcome by a single country alone. No country can achieve development on its own; no country is immune from global threats. Only through full cooperation can countries effectively address the problems the world faces and achieve common progress on the basis of their own development.
Against this international background, China has proposed building a global community of shared future, with the goal of creating an open, inclusive, clean and beautiful world that enjoys lasting peace, universal security, and common prosperity. By addressing practical problems faced by the world today, human society will achieve peace and sustainable development through win-win cooperation, joint efforts, and shared benefits. To be more specific on the China-Tonga relationship, our two countries have different social systems, ideologies, historical civilizations and are at different development levels, but our two peoples share the common values of humanity and can find the greatest common ground to build a better world.
Hon. Prime Minister and Ministers, Ladies and Gentlemen, when we look at these water tanks, we have every reason to be proud of the close friendship between China and Tonga. I want to tell you that  these 500 water tanks are only part of the grant projects from Dongguan City, Guangdong Province this year. The other projects include farm tractors, police vehicles, solar-power street lights, computers, etc. Moreover, I want to assure you that China will provide more water tanks to Tonga this year. Actions speak louder than words. Let's work with concrete actions to deepen our friendship for a better future of China-Tonga friendly relations and cooperation.
Thank you.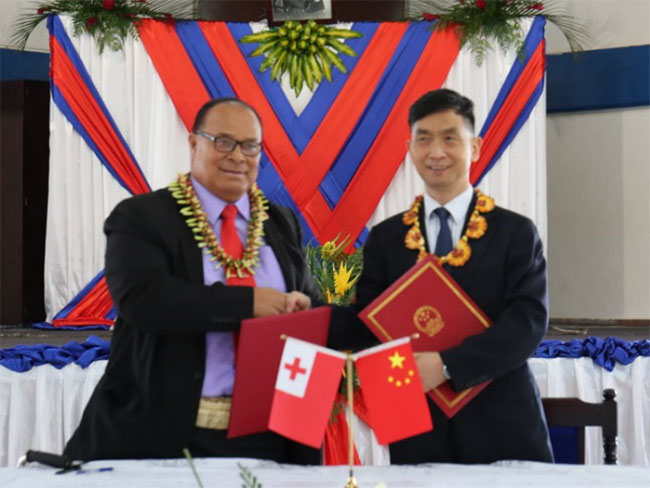 #6290 Sponsored Promoted Content 20210924-1008