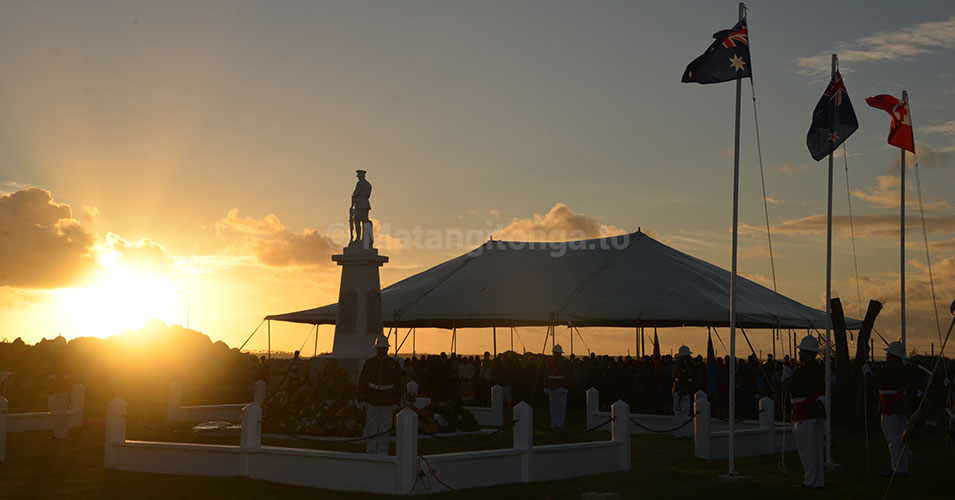 Invitation to attend Anzac Day Service
The Cenotaph, Nuku'alofa, Tonga
Thursday 25 April, 2019
The Australian High Commission invites members of the public to attend the Dawn Service on Thursday 25 April 2019 to remember those men and women from Tonga, Australia and New Zealand who have served and sacrificed in international conflicts.
The Service will be held at the cenotaph at Pangai Lahi, Nuku'alofa. Guests are requested to be seated at 5:45am. Members of the public will be invited to lay a wreath during the service should they wish to do so. Medals may be worn. Following the ceremony, guests will be invited to attend a traditional gunfire breakfast at the Australian High Commissioner's Residence in Ma'ufanga.
Pangai Lahi
'Oku fakaafe'i atu 'e he 'Ofisi Talafekau Lahi 'o 'Aositelelia 'a e kakai 'o e fonua ke mou me'a mai ki he ouau fakamanatua 'o e kau tangata mo e fafine mei Tonga, 'Aositelelia mo Nu'usila 'a ia na'a nau fakahoko fatongia mo to tau 'i he ngaahi tau fakavaha'apule'anga.
'E fakahoko 'a e ouau ni ki he maka fakamanatu 'i Pangai Lahi, Nuku'alofa. 'E fakanofonofo 'a e kau fakaafe 'i he taimi 5:45am. 'Oku 'ataa pe kiate kinautolu, 'oku faka'amu ke tuku pale lolotonga 'a e ouau ni. 'I he hili 'a e ouau, 'oku fakaafe'i 'a e kau fakaafe ke mou me'a mai ki he ouau 'ilo pongipongi 'e fakahoko'i he me'a'anga 'o e Talafekau Lahi ki 'Aositelelia 'i Ma'ufanga.