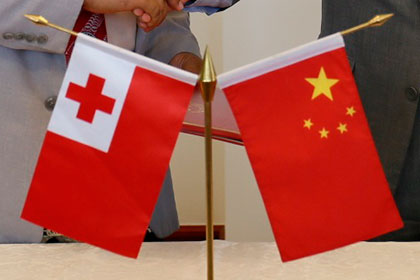 By HE Wang Baodong, Chinese Ambassador to the Kingdom of Tonga
As everyone knows, China has made great achievements in economic and other fields after implementing reform and opening up for nearly 40 years. When developing itself, China has never forgotten and is always willing to help other developing countries in their pursuit for social and economic progress. China has been upholding justice and promoting shared interests and consistently follows the principles of sincerity, real results, affinity and good faith in developing relations with other developing countries. Pacific island countries, including Tonga, are all important partners of China. To achieve common development, China and eight Pacific island countries established strategic partnerships in 2014 based on mutual respect, which has charted the course for and further promoted friendly relations between China and these countries and also contributed to the stability and development of the Pacific region at large.
For a long time, on the basis of fully respecting the will of the governments and people of the Pacific island countries and taking into full account of their development needs, China has offered a great deal of assistance including grants and loans to them. The aid and assistance are provided only after full consultation, careful evaluation and scientific studies of the project proposals have been completed. The facts have proven that the assistance provided by China has significantly fueled the economic and social development of these countries and delivered tangible benefits to the local communities, which has been positively acknowledged and warmly welcomed by the governments and people of the recipient countries. No one knows better than the people and governments of the Pacific island countries on whether China's assistance is productive or not. Other countries have no right to act as a mentor and point fingers at and making irresponsible remarks on China's assistance efforts and collaboration with the Pacific island countries in this field.
China and Tonga established diplomatic ties in November, 1998. Since then and thanks to joint effort on both sides, their relations have made great progress witnessing ever-enhanced bilateral exchanges and cooperation. China has aided Tonga in a number of urgently needed projects, including the reconstruction of Nuku'alofa Central Business District and Tonga High School, building of Ha'apai High School, Vaipua Bridge in Vava'u, Vaini Health Center,St. George Government Building, upgrading roads on all the main islands of Tonga. Furthermore, China has provided batches of material assistance in health, education, transportation, civil aviation and other areas. These projects and assistance have effectively improved the local infrastructure, significantly promoted development of various sectors of Tonga and greatly facilitated daily life of the Tongan people.
This year of 2018 marks the 20th anniversary of the establishment of diplomatic relations between China and Tonga, which is also a time to reflect on the achievements jointly made in the past and look into the prospect of the future. China will continue to provide assistance to Tonga within China's capacity and is ready to work with the Tongan side to further strengthen dialogue and carry out more mutually-beneficial and pragmatic cooperation to further advance the China-Tonga strategic partnership to a new level and bring more benefits to the Tongan people.
#4273 20180702