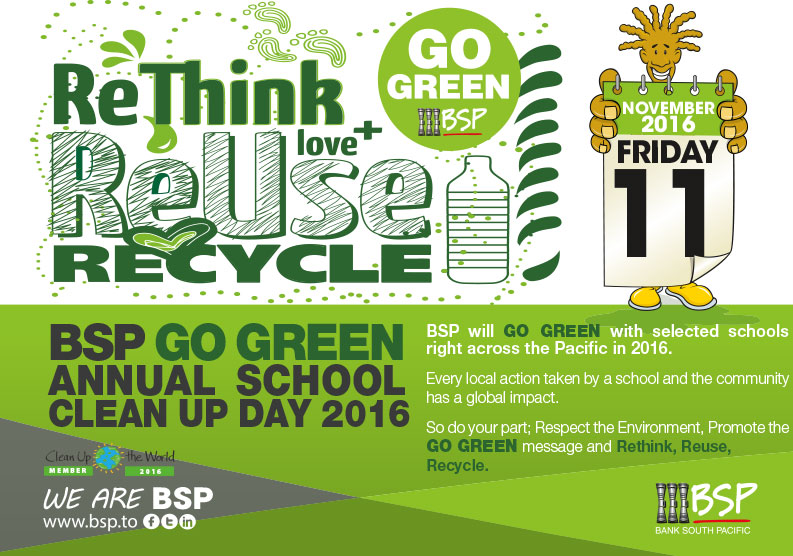 Bank South Pacific Tonga is encouraging schools to join in its annual "Go Green School Clean Up Day 2016" this Friday 11 November 2016.
"Every local action taken by a school and the community has a global impact. So do your part, respect the environment, promote the Go Green message, and Rethink, Reuse, Recycle!" BSP Tonga stated today.
BSP has been active in promoting this message since the inception of its Go Green Clean-up Campaign, which pulls together communities to pick up rubbish on their streets, schools and around the area where they live.
"We're also a member to the Clean up the World Campaign and as an organisation, we take part annually in observing Earth Hour, participate in World Earth Day activities and mark World Environment Day!
"Our Go Green effort challenges ourselves, our system and our partners to be more aware on practical ways to Go Green," BSP stated.
The Go Green Initiative reaches across the Pacific offering fun and inclusive community activities that encourage and teach children about the importance of caring for and respecting the environment in which we live in.
Earlier this year on June 3, BSP Tonga teamed up with Tonga Waste Authority to mark World Environment Day placing 30 BSP Go Green rubbish bins  along Vuna Road, Nuku'alofa, starting from the Royal Palace to the Fisheries Department in Kolomotu'a.
Friday's "Go Green School Clean Up Day 2016" is coordinated in Nuku'alofa by Salesi Fineanganofo, Business Manager of Bank South Pacific Tonga.
He said that two schools from Vava'u, one school from Ha'apai, one school from 'Eua and 10 schools from Tongatapu were in the Go Greeen campaign.
In Tongatapu they are the Government Primary Schools (GPS) at Afa, 'Atele, Ha'amonga Niutoua, Ha'asini, Kolovai, Te'ekiu, Tokomololo, Mu'a, and Pea, and the Ocean of Light school.
Ocean of Light will be holding their Go Green day on Thursday November 10 and the other schools on Friday November 11.