By H.E. Huang Huaguang, Ambassador of the People's Republic of China in the Kingdom of Tonga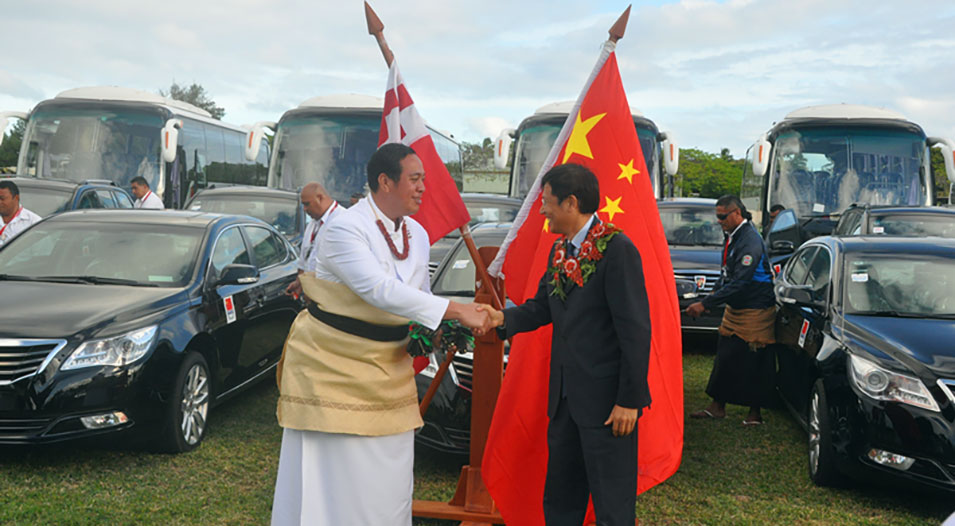 For the cause of human development and progress, the year 2015 is a year of significance in inheriting the past and ushering in the future. This year, the international community commemorated the 70th anniversary of the victory of World War II and celebrated the 70th anniversary of the founding of the United Nations to take the history as a mirror and cherish peace. This year, nations around the world enhanced collaboration and successively identified two major global agendas of 2030 Sustainable Development Goals (SDGs) and the post-2020 climate change arrangement.
But the world is far from tranquil and faces lots of challenges. The world economy is still struggling to recover, the imbalance between the North and South remains serious, there are more than 800 million people in each corner of the world living under extreme poverty. Regional conflicts still exist and are becoming worse, forcing people to leave their land and become refugees. International extremist and terrorist groups keep expanding and their wolfish cruelty has shocked the world once and again. Frequent natural disasters have caused numerous loss of lives and property.
Global challenges
Peace and development remain the themes of today's world and are also a therapy for all the global challenges. As the biggest developing country in the world, China sticks to these two themes and works together with other countries to promote peace and development and makes her contribution to address global issues.
We contribute Chinese wisdom to the construction of world order. In September, during the

UN

Summit, Chinese President Xi Jinping elaborated the major concept of forging a community of shared destiny for mankind. The approach to achieve the concept is to build partnerships in which countries treat each other as equals, engage in mutual consultation and show mutual understanding; to create a security architecture featuring fairness, justice, joint contribution and shared benefits; to promote open, innovative and inclusive development that benefits all; to increase inter-civilization exchanges to promote harmony, inclusiveness and respect for differences and to build an ecosystem that puts mother nature and green development first. This demonstrates China's vigorous efforts to pursue the grand ideal of a perfect world order.
We inject Chinese efforts to maintain world peace. In 2015, China successfully hosted the commemorations marking the 70th anniversary of the victory of the Chinese People's War of Resistance against Japanese Aggression and the World Anti-Fascist War and during the commemorations, China announced to cut the number of its troops by 300,000 and clearly sent the voice of peace and justice. China also decided to put 1 billion

US

dollars to set up China-

UN

peace and development fund and join the new

UN

Peacekeeping Capability Readiness System and has thus decided to take the lead in setting up a permanent peacekeeping police squad and build a peacekeeping standby force of 8,000 troops to be ready to make contributions to maintain world peace.
We provide a Chinese solution to promote international development. China and countries along the Economic Silk Road and 21st Century Maritime Silk Road are working together to promote the Belt and Road initiative by establishing the Asia Infrastructure Investment Bank and Silk Road Fund to inject new power to the world economy.
​Debt exemption
To further help other developing countries to grow their economies and to improve people's livelihoods, China will establish an assistance fund for South-South cooperation, with an initial pledge of US$2 billion in support of developing countries' implementation of SDGs. 
China will exempt the debt of the outstanding intergovernmental interest-free loans due by the end of 2015 owed by the relevant Least Developed Countries, landlocked developing countries and small island developing countries.
China will carry out the "Six 100s" initiative, according to which it will make available to other developing countries in the next five years 100 poverty reduction programs, 100 agricultural cooperation projects, 100 trade promotion and aid programs, 100 environmental protection and climate change programs, 100 hospitals and clinics, and 100 schools and vocational training centers. 
China will also provide 120,000 opportunities and 150,000 scholarships for citizens of other developing countries to receive training and education in China, and help nurture 500,000 professional technicians for the rest of the developing world to provide human resources support for their development.
China actively promotes the international efforts in addressing climate change and made a great contribution for reaching an agreement on climate change in Paris. China makes every effort to reach the voluntary reduction targets and promote the South South cooperation in the sector of climate change. China commits 20 billion RMB to set up China's South-South Cooperation Fund on Climate Change and provides 1000 training opportunities to support other developing countries to address climate change.
China and Tonga
Both China and Tonga are developing countries. Our people suffered from a similar scourge, and both have travelled a path fraught with hardship. So China has a clear idea of the challenges faced by Tonga and has provided continuous support for Tonga's sustainable development. In 2015, China and Tonga helped each other on the international stage and the bilateral relations keep improving with fruitful achievements and bring benefits to our people.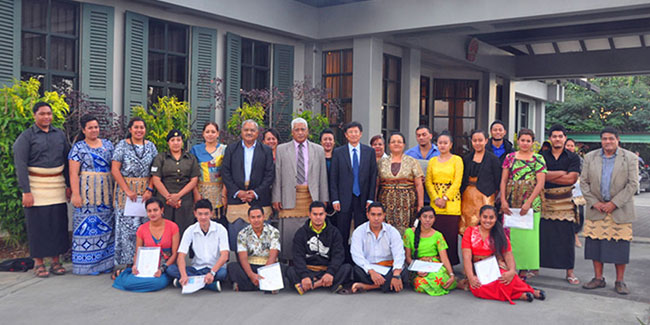 The St. George Palace Project funded by Chinese government started successfully. China and Tonga signed new agreement on economic and technical cooperation. According to the new agreement, China will provide Tonga with a grant aid of 120 million

RMB

to support priority projects in sports and agricultural sector. 
China provided 30 vehicles for the grand coronation ceremony of His Majesty King Tupou

VI

to ensure the success of the various events during the celebration.
A package of goods valued 5 million

TOP

was handed over to Tonga to address climate change. The solar powered street lights have already lighted-up to help the remote islands to reduce energy consumption and bring convenience to people's daily life.
China also provided medical materials with a value of 2 million

TOP

to improve the health conditions in Tonga.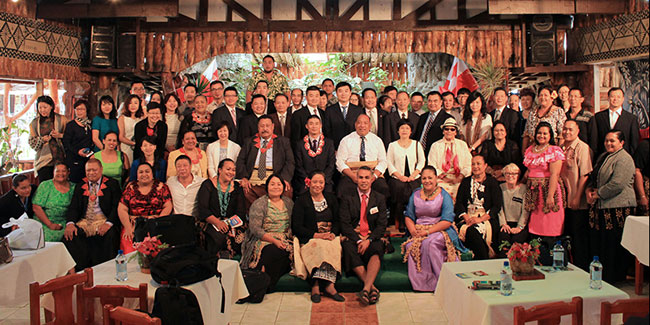 China and Tonga signed the

MOU

of tourism cooperation. China already invited Tonga tourism authorities to visit China several times to promote the tourism resources in China. Also about 100 Chinese tourist agencies have visited Tonga to explore cooperation opportunities. This year also witness a tremendous growth of Chinese tourists visiting the Kingdom. Both sides also reach primary consensus regarding the mutual visa free agreement to further facilitate exchanges of our people.
With the efforts from both sides, Chinese quarantine experts visited Tonga months ago and finished the safety study of the export of Tongan squash to China. There's a high possibility that Tongan squash would enter Chinese market in the coming year.
China provided 25 government scholarship to Tongan students and the scale of Tongan students studying in China keeps expanding.
The Chinese government also provided assistance to support grass roots projects like the Popua Road Upgrade, Niuafo'ou Water Tank Project, 'Eua Water Supply Project, and 'Uiha Dormitory Reconstruction, to improve the people's living standard for the relevant communities.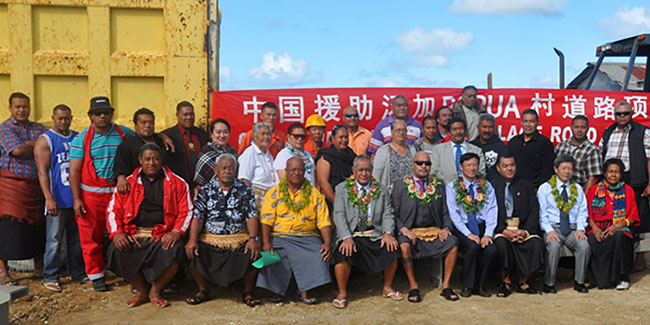 In the coming new year, China is ready to work together with the Tongan government and Tongan people to further enhance the bilateral relations, to enrich the cooperation in various sectors and bring more benefits to our people.
Wishing prosperity, harmony and happiness for all in the Kingdom of Tonga in 2016.