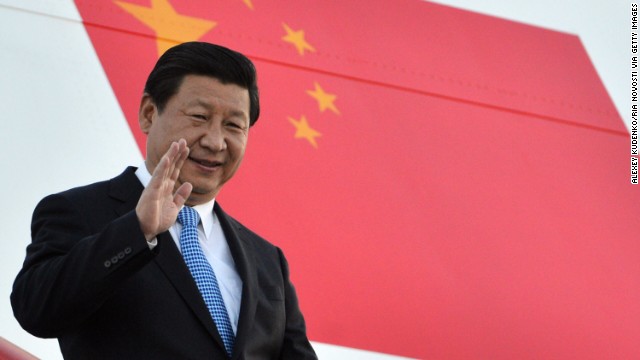 (Translation of a statement by H. E. Xi Jinping)
A Lasting True Friend of the People of Pacific Island Countries
H.E. Xi Jinping
President of the People's Republic of China

"In China, Fiji is fondly known as "the emerald of the Pacific Ocean". I still happily recall my stopover in Fiji five years ago when I was deeply impressed by the picturesque tropical scenery and hospitable people of this country.

Now, after five years, I will again set foot on this beautiful land. It gives me much pleasure to learn about the continued prosperity in the country as evidenced by its robust economic growth, steady progress in social development, improved living standards, and active participation in international exchanges. Recently, Fiji successfully held its general elections. I sincerely wish that the people of Fiji will achieve even greater success in its nation-building and economic and social development.

Fiji is the first Pacific island country to establish diplomatic relations with China. Our two countries enjoy a deep traditional friendship. Since the establishment of diplomatic ties, China and Fiji have carried out frequent exchanges at all levels, engaged in fruitful practical cooperation and supported each other in multilateral affairs. I hope my visit will help strengthen political mutual trust, enhance cooperation in areas such as economy, trade, agriculture, forestry, fishery and tourism, expand people-to-people and cultural exchanges, deepen multilateral coordination and cooperation, and take China-Fiji traditional friendship to a new height.

An important agenda of my visit is to invite leaders of all Pacific island countries that have diplomatic ties with China to Fiji for discussions on ways to further grow China's relations with these countries and jointly draw a blueprint for the bright future of our friendly exchanges and mutually beneficial cooperation.

Pacific island countries are important members of the Asia-Pacific community and the developing world. Since independence, they have made important headway in nation-building and economic and social development, and taken solid steps in advancing regional cooperation.
Friendly exchanges

The friendly exchanges between the people of China and Pacific island countries date back to a long time ago. We feel a natural kinship with each other. For decades, mutual respect, mutual support, sincerity, friendship, win-win cooperation and common development have always been the key words in China's relations with these countries. As a true friend of Pacific island countries, China stands ready to work on the basis of mutual respect and equality to deepen our win-win cooperation and provide more help to support their accelerated development so as to achieve common development and prosperity.

We shall be good brothers who support each other in both good and bad times. Sincerity is the key to a lasting friendship. China believes that all countries are equal members of the international community irrespective of their size, wealth and strength. China and Pacific island countries have similar historical experience, enjoy a deep traditional friendship, and share the same aspiration for a brighter future.
    
We thank island countries for their valuable support on issues concerning China's major and core interests. China firmly supports the people of island countries in pursuing development paths suitable to their own national conditions, upholding sovereignty and development rights and interests, and participating in international and regional affairs on an equal footing with other countries.

We shall be good partners of win-win cooperation and common development. The Chinese people believe that "Giving and sharing does not mean losing." To realize the Chinese dream of the great national renewal, the Chinese people are making staunch efforts to comprehensively deepen reform, advance the rule of law and pursue economic and social development. The people of island countries are working for the prosperity of their national economies and expansion of regional cooperation. There is certainly room for us to align development strategies, leverage our respective strengths and achieve win-win results.

We will continue to do what we can to provide support and assistance to island countries. We will encourage more Chinese businesses to engage in investment cooperation with island countries, and help them solve the most immediate and pressing difficulties, take the challenges posed by climate change very seriously, help them better translate their strengths in natural endowment, environment and human resources into drivers for development and achieve common prosperity.

We shall be good friends of mutual understanding, amity and frequent exchanges. A long time ago, many Chinese came to island countries and worked with the locals. They lived together in harmony and sowed the seeds of friendship and hope. Since the founding of New China, many Chinese doctors, teachers, agricultural experts, engineers and technicians have come to island countries to work with the people here to implement economic and technical cooperation projects. They have also brought with them profound goodwill of the Chinese people toward the people of island countries. In recent years, more and more Chinese tourists have visited island countries attracted by the turquoise ocean, white beaches, coconut trees and unique cultures.

We welcome more friends from Pacific island countries to visit China, for sight-seeing, studying, doing business or other exchanges. We hope to expand exchanges and cooperation with island countries in culture, education, health, sports and between youths and at local levels so as to deepen mutual understanding and friendship between our people and pass on our friendship from generation to generation.

The people of Pacific island countries often say, "Our world itself is an island." The vast Pacific Ocean links China, Fiji and other island countries and, indeed, our hearts close together. China will be a lasting true friend of the people of Pacific island countries and will work together with Pacific island countries to shape an even better future for our relations."